How would you like to have permanent teeth placed in the same day?
"Well now you can with Dental Implants," stated Dr. Farrell.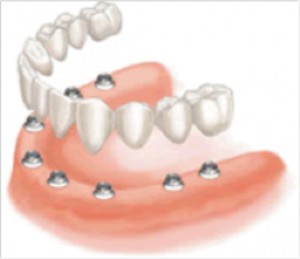 Dental Implants are small prosthetic posts that are placed into the bone of the upper or lower jaw. They act as replacements for the root portion of lost natural teeth and also serve as an anchor for replacement teeth. Dental implants look and feel exactly like natural teeth — in fact, no-one will be able to tell the difference. Dental implants are appropriate for almost anyone who is currently missing teeth or is at risk of losing teeth.
In many situations, dental implants can give patients back their confident smile. The benefits are improved esthetics, the ability to eat comfortably and a clean, healthy oral environment for the patient.
There are numerous advantages of dental implant treatment over other treatment options. It is not necessary to grind down the adjacent teeth for a bridge, or secure a partial denture to adjacent teeth with clasps or hooks, which can cause tooth loosening. Implant-supported replacement teeth spare patients many of the disadvantages of traditional false teeth.
There are many different types of dental implants available, however the most common dental implants are called "root form implants." Our dentists have extensive experience in dental implants and would be pleased to discuss the benefits of implant prosthetics with you. Ask about implant restorative treatment at the time of your consultation.
Simplant
SimPlant is precise preoperative planning software that provides an increased level of confidence and an extra margin of safety for your patients. A plan is created for the ideal positioning of implants, in both 2D and 3D, while taking into account both clinical and esthetical considerations.
Dental Implants can offer solutions for:
1.    The patient that cannot speak or chew comfortably with conventional dentures.
2.    The patient who is missing teeth and wants to avoid  a removable partial denture.
3.    The patient who has an exaggerated gag reflex and cannot maintain dentures of any kind in the mouth.
4.    The patient who is wearing dentures and wants a fixed appliance to increase function/ cosmetics/ hygiene/ and psychological acceptance of replacement of missing teeth.
The patient who needs to increase their ability to chew better to aid in the digestive process.
Highly trained
All four dentists have completed rigorous education programs in implant dentistry, enabling them to provide the comprehensive implant services available at Village Dental.
"I attended the University of Miami's implant training program," states Dr. Hards. "It was an intensive, year-long program covering all of the facets of implants. There are a number of implant systems available, and the training prepared me to work with different types."
"Dr. Farrell and I both did a mini residency at the Medical College of Georgia where, much like Dr. Hard's course, it explored all of the aspects of implants," contributes Dr. Hall.  "We offer same day permanent teeth," states Dr. Farrell.
Village Dental offers a free consultation to determine if implants are a good option for you.  We have three golf cart accessible locations to accommodate you for this appointment.  Feel free to call 352-205-7667 and let us reserve time for you.