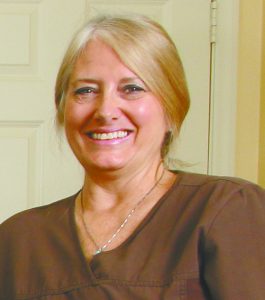 A cancer diagnosis is a devastating, life-changing event. Dealing with cancer and the physical, emotional and financial issues that often come with it can be extremely challenging. Luckily, oncology nurses are there to help patients along the way.
InterCommunity Cancer Center would like to honor these medical professionals who are the unsung heroes of cancer care. Oncology nurses make a difference in patients' lives every day by being their advocate and educator, guiding them through treatment, celebrating their victories, and providing comfort in times of need. Oncology nurses juggle an overwhelming number of tasks and give tirelessly of themselves in ways patients and families never see―all while remaining faithful to their core mission of ensuring the patient gets the best care possible.
Assessing and educating patients is a big part of the oncology nurses' job, and they spend time with each new patient getting them started off right in their treatment. This enables the nurse to find out what concerns the patient may have and explain the care he or she will be receiving. Some patients don't fully comprehend their condition or else believe they already know all about the treatment. The oncology nurse plays a vital role by assessing what the patient really knows, correcting any misinformation, and providing the information needed to truly understand their cancer care regimen. This is an ongoing process that continues throughout treatment.
Advocating for the patient is possibly the most important role of oncology nurses. They are skilled at looking at the patient holistically to determine their needs and how they can help. While the cancer center provides care to industry standards, with cancer patients the care team must go beyond that to make sure the patient's financial and emotional needs are met as well. Oncology nurses have a wide range of knowledge and are highly trained, so if a concern is raised, they know how to handle it or where to find a resource to help if the problem is outside of their area. They are committed to ensuring patients know their needs will be met and they will be taken care of by a team of highly trained professionals who care deeply about their well-being. They also support families, as the patient's loved ones are significantly impacted as well when cancer strikes.
An oncology nurse must also be a jack of all trades, handling a wide range of tasks. One minute the nurse might be coordinating a patient's care, making appointments with specialists to make sure there are no gaps in treatment, and the next minute he or she might be calling charities to get medications paid for or filling out insurance forms. Oncology nurses strive to ensure patients complete treatment with the least amount of stress, so they often step forward to handle tasks that can be a burden to a patient who is already distressed and overwhelmed by treatment. They must also possess a deep understanding of the clinical aspects of their field, and spend time and energy on continuing nurse education to stay abreast of new developments. Over the last several years, dozens of complex new cancer treatments have become available that must be administered to patients with exacting accuracy, making the nurses' job even more demanding.
Oncology nurses face tremendous pressures and obstacles every day, handling them with efficiency and a "can do" attitude.  What's the biggest challenge they face on the job? Melody Gerger, an oncology nurse at InterCommunity Cancer Center shares her view on the subject: "Every day the challenges are different for each patient, caregiver, and family member. As a nurse, I am always here for my patients in real time. I'll catch things like medication errors, as well as brain-storm with family to determine needed assistance in the home." Nurses also often intuitively "know" when a patient visits the office and requires immediate attention.
Luckily, the job also comes with great rewards. "The best part of my job is seeing patients improve!", says Melody. "I was blessed with the gift of caregiving and empathy. I receive my reward daily in being able to offer unwavering compassion to all patients and provide calm reassurance in the midst of probably the most difficult time of their lives."
If you know an oncology nurse, acknowledge them by saying thanks for the tremendous impact they make in the lives of the patients and families they serve.
ABOUT INTERCOMMUNITY CANCER CENTER
InterCommunity Cancer Center (ICCC) has more than 30 years of experience providing quality, personalized cancer care in the Lady Lake and Leesburg communities and has treated more than 10,000 patients. Medical Director and Radiation Oncologist Dr. David J. Catalano has expertise in treating breast, lung, prostate, gynecologic, skin and other cancers.
ICCC is an affiliate of The US Oncology Network ("The Network"). This collaboration unites ICCC with more than 1,400 independent physicians dedicated to delivering value-based, integrated care for patients — close to home. Through The Network, these independent doctors come together to form a community of shared expertise and resources dedicated to advancing local cancer care and to delivering better patient outcomes. The US Oncology Network is supported by McKesson Specialty Health, whose coordinated resources and infrastructure allow doctors in The Network to focus on the health of their patients, while McKesson focuses on the health of their practices. For more information, visit www.usoncology.com.
(352) 674-6300
www.ladylakecancercenter.com