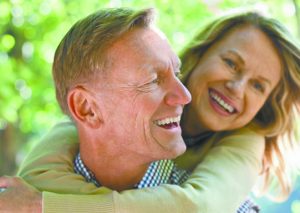 March is Colorectal Cancer Awareness Month, and InterCommunity Cancer Center in Lady Lake, Fla., encourages education about colorectal cancer including prevention, early detection and advanced treatments.
Screening and Early Detection Key to Effective Treatment
Colorectal cancer, or cancer of the colon and rectum, is the third most common cancer, excluding skin cancers, diagnosed in both men and women in the United States. The American Cancer Society estimates 135,430 new cases of colorectal will be diagnosed in the United States in 2017.
Since very few symptoms are associated with colorectal cancer, regular screening is essential. Screening is beneficial for two main reasons: if polyps that lead to the cancer are detected and removed, and if the cancer is detected in its early stages it is more curable.
"Between 80-90 percent of patients are restored to normal health if the cancer is detected and treated in the earliest stages," said Dr. David Catalano, medical director and radiation oncologist at InterCommunity Cancer Center. "However, the cure rate drops to 50 percent or less when diagnosed in the later stages."
Current screening methods for colorectal cancer include fecal occult blood testing (a simple test to detect hidden blood in the stool), flexible sigmoidoscopy (a visual examination of the rectum and lower portion of the colon), double contrast barium enema (barium x-ray), colonoscopy (a visual examination of the entire colon) and digital rectal exam. Medicare and many health insurance plans cover colorectal cancer screening costs.
InterCommunity Cancer Center recommends a discussion with your physician to determine whether colorectal cancer screening is right for you and how often you should be screened.
Risk factors include being overweight, physical inactivity, certain diets such as those high in red or processed meat, smoking and excessive alcohol use. Some people are at a higher risk and should be screened before the age of 50, including those with a personal or family history of inflammatory bowel disease; colorectal cancer or polyps; or ovarian, endometrial or breast cancer.
Colorectal Cancer is Treatable
High-dose radiation therapy in conjunction with chemotherapy has shown to be a successful, non-invasive treatment to manage early stage colorectal cancer. In addition, colon cancer is often treated by surgically removing the affected part of the colon, followed by radiation treatments and/or chemotherapy to help prevent the cancer from spreading or returning.
InterCommunity Cancer Centers offers Intensity Modulated Radiation Therapy (IMRT) in the treatment of colorectal cancer. IMRT is an effective treatment used to administer targeted, conformal radiation therapy using thousands of small laser beams rather than a few large, uniform beams to deliver a uniform dose of radiation to the tumor while protecting the healthy and sensitive surrounding tissue.
"Because of the precision involved with IMRT, we can use higher doses of radiation to more effectively treat the cancerous tumor in a very precise location," said Dr. David Catalano, radiation oncologist at ICCC. "At the same time, other organs and tissues are not affected by the radiation, reducing the side effects and improving the patient's quality of life."
To schedule an appointment or consultation with Dr. Catalano call 855-403-2519.
ABOUT INTERCOMMUNITY CANCER CENTER
InterCommunity Cancer Center (ICCC) has more than 30 years of experience providing quality, personalized cancer care in the Lady Lake and Leesburg communities and has treated more than 10,000 patients. Medical Director and Radiation Oncologist Dr. David J. Catalano has expertise in treating breast, lung, prostate, gynecologic, skin and other cancers. ICCC is part of The US Oncology Network, which is supported by McKesson Specialty Health and is a physician-led network of integrated, community-based oncology practices. As part of The Network, ICCC provides patients and practices a best-in-class platform and a robust suite of customizable offerings and services, including comprehensive oncology management services across radiation oncology, surgical specialties and medical oncology while focusing on community-based oncology care and innovative value-based cancer services. ICCC has access to clinical information and best practices from the treatment of more than 800,000 patients annually, enabling highly effective, peer-collaborated care empowering ICCC to offer academic-quality treatment in a community-based setting, providing exceptional cancer care close to home. To learn more, visit www.ICCCVantage.com.
(352) 674-6300
www.ICCCVantage.com
Colorectal Cancer Risk Factors
The risk of developing colorectal cancer increases with age. Overall, the lifetime risk of developing colorectal cancer is about 1 in 21 men, or 4.7 percent, and 1 in 23 women, or 4.4 percent. All men and women age 50 and older are at risk for developing colorectal cancer and should consider whether or not to be screened.