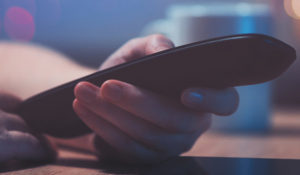 It used to be that our favorite TV shows came on only once a week, at a specific time. With streaming services, we can now watch many of those same shows whenever we choose — and for however long – we want. But if you sit down for just one episode and find yourself still watching hours later, you've probably veered off into binge territory.
You're not alone. In a 2017 Journal of Sleep Medicine study of people 18 to 25 years old, more than 80 percent were identified as binge-watchers.
Watching a full season of a show you're hooked on may seem like the perfect day, but did you know that binge-watching can adversely affect your health? Following are four key health areas that can be affected and ones to consider the next time you sit down to indulge in the latest addition of your preferred streaming service.
Difficulty Falling Asleep
Research shows that binge-watching can cause "pre-sleep arousal." That means physical and mental activity, like a pounding heart rate or intense thinking, may keep you awake. Your body and brain may require a cool-down period to process unfolding dramas, complex plots and complicated characters.
Fatigue
The study also shows that difficulty in falling asleep after binge-watching may lead to fatigue the next day. According to the National Safety Council, potential effects of fatigue include depression, obesity and decreased work and driving safety.
Cardiovascular Disease
Spending long periods in a sitting or reclining posture might be associated with cardiovascular disease and type 2 diabetes, according to the American Heart Association. One contributing factor is that binge watching leads to a more sedentary lifestyle and lack of physical activity has been directly correlated to increased risk in these areas.
Back Pain
Sitting in fixed positions for prolonged periods can increase your risk of developing lower back pain, particularly when it's on a couch or chair with less spinal support.
To help offset some of the negative impacts of binge-watching, UnitedHealthcare's chief medical officer, Dr. Mayrene Hernandez, offers some healthy options to try while catching up on the latest season of your favorite series.
Work out while you watch. Put the TV in front of the treadmill, stationary bike, elliptical or simply do some of your gym exercises on the floor or Fitball while watching your favorite TV show.
Take a break. Consider pressing pause on binge sessions with 10-minute breaks and taking a walk or playing with a pet or your child. Aim for three 10-minute sessions per day (or combine them for a total of 30 minutes), five days a week. This includes walking, just make it brisk.
Use TV time to stretch. Sit down in front of the TV and start stretching! Major muscle groups such as calves, thighs, hips, lower back, neck and shoulders can improve flexibility and your ability to fully move your joints. Warm up with moderate activity such as light walking (even around the house or up and down the stairs) first to help avoid injury.
Binge-watching every once in a while is probably not going to lead to long-term problems. As with most things, moderation is key. For more free tips and information on how to live a healthier, fitter lifestyle, visit www.uhc.com/health-and-wellness.