Dr. Kelly Hansen, Au.D.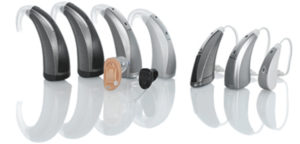 Not being able to hear properly can affect one's overall health, confidence, and communication level. If you've had hearing aids for some time, you know how valuable they've been in changing your perspective on life, whether it's easier to hear the TV at an abnormal level or how much your social involvement has improved.
Hearing aids require maintenance, and they need to be well taken care of. Some hearing devices can last longer than expected if given the care they need. Most, however, tend to last approximately 5 years.
The reason that many people need to change their hearing aids is dependent on health issues, lifestyle changes, or the desire to update the technology.
If you have hearing aids, it's essential to keep them working at an optimal level. Ask yourself the following questions, and if you answer yes to any of them, you probably need to speak to your audiologist about new hearing aids.
#1 Do you need to update your technology?
Modern hearing aids provide multiple features, housed within tiny devices that are much smaller than hearing aids of a decade ago. If you'd like to connect to Bluetooth or get self-charging hearing devices, these are all now readily available.
#2 Have your hearing aids stopped working as well as they initially did?
Depending on the type of hearing aid you have, some don't last as long as others and environmental exposures can exacerbate their longevity. If you've gotten them wet, if they are dirty or have accumulated wax, they most likely need to be replaced.
However, it might not be the hearing aids; it could be that your hearing is changing. Most hearing loss is progressive; so, getting a hearing test redone and having the audiologist reevaluate your level of hearing is critical when it comes to the effectiveness of hearing aids.
#3 Has your life changed since you first got hearing aids?
Along with a hearing test, your audiologist should offer an in-depth evaluation of your home-life, work-life, and social life. Maybe you've recently retired, have grandchildren now, or perhaps you've stopped going to the country club. If you are very active and frequent loud events or restaurants regularly, you may need a different technology than a person who leads a quieter life in general.
When it comes to the technology feature of hearing aids, an audiologist will guide you as to which option is best suited for your personal needs. Because some individuals have hearing loss in both ears, some, just in one ear, and the level of hearing varies from person to person, there should never be a "one size fits all" approach.
Why you should see an Audiologist
If you are experiencing hearing loss, it's important to seek a qualified audiologist, because they are trained to get you the best outcome and resolution for your specific issue. If you've noticed that it's difficult to hear conversations in a noisy atmosphere, or you feel the need to adjust your television volume much higher than before, it's vital for you to have your hearing checked.
Perhaps you or your loved one keeps asking for people to repeat themselves, or you can't quite pick up where sounds are coming from; if this is the case, don't wait until your hearing loss gets any worse, schedule your appointment as soon as you possibly can.
At Trinity Hearing & Balance, we truly believe that better hearing leads to a better life. Our patient-centered approach allows us to focus on satisfying your hearing care need, whatever they may be. Our practice will work with you to diagnose and find solutions for your hearing, tinnitus, and balance needs using state-of-the-art equipment and the most advanced technology. Because our focus is entirely on your unique needs, coming to Trinity Hearing & Balance means that you'll experience patient care that is specific to you, with exceptional follow-up care that ensures your hearing and balance needs are being met.
Trinity Hearing & Balance wants you to be satisfied with your care. We are a local, independent, community-oriented practice. Our services are fully guaranteed, meaning we are committed to listening to your concerns, and your technology is always perfectly fit to renew your world of hearing. A strong patient-provider relationship based on honesty, integrity, and values is what we strive for, and we feel that this is the best approach to making sure you don't miss any of the precious moments in your life.
Services
• Tinnitus Treatment
• Hearing Tests
• Hearing Aids for all budgets
• Hearing Aid Repairs
• Dizziness, Loss of Balance, Vertigo
• Hearing Protection
• Evaluates and Recommends Cochlear Implant Surgery
If you are experiencing any hearing issues, or need a hearing or balance evaluation, please call Trinity Hearing & Balance of New Port Richey to schedule your appointment.
Trinity Hearing & Balance
8605 Easthaven Ct., Ste 101, New Port Richey, FL 34655
727-372-1130
www.trinityhearingandbalance.com