By Dana Hall McCain
iMOM.com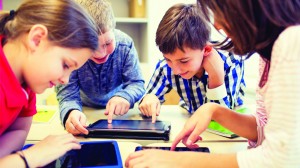 Parental Controls for Kids' ElectronicsThink it's impossible to keep an eye on your kids' use of the internet and smartphones? Not so! Today's parental control software options make it simple and allow you to give your children levels of freedom based upon their maturity and trustworthiness. Here are some options—both high and low-tech—you might consider:
1. Mobicip. This web-based parental solution allows you to track and set boundaries for multiple users across multiple devices, with a per-device yearly subscription.
• Available for iPod, iPad, iPhone, Android, and Windows devices
• Easy to set up: you can blacklist certain categories of sites, blacklist particular sites, or whitelist only the sites you want to allow
• Allows usage blocking during certain hours
• Have usage reports emailed to you at intervals you set
2. Net Nanny. Another web-based solution which allows you to monitor and control usage on both computers and smartphones. This is a one-time purchase, and a license must be purchased for each device you'd like to protect. Bundle pricing is available for multiple-device households.
• Filters internet content
• Can cap overall time of usage allowed
• Sets specific limitations for multiple users on a single device
• Dispatches reports on usage to administrators (parents)
• Offers a social media monitoring component
• Available for Windows, Mac, and most iOS and Android devices
3. Covenant Eyes. An accountability system that allows any user—adult or child—to have their internet usage report sent to an accountability partner. Pricing is per username, and can be set up on an unlimited number of devices.
• Accountability and Filtering capabilities for Windows, Mac, and iOS devices.
• Accountability-only version available for Android.
Web filtering available in six age-based levels of sensitivity which can be adjusted as children grow.
4. Screen Time Tickets can help prevent screen time from becoming all the time. You can give your child his tickets all at once and let him figure out how to spend them during the week, or set a limit on the number of tickets your child can use each day. Screen Time Tickets also make great rewards for good behavior or other jobs well done. Go to imom.com and type in "screen time tickets" to download our PDF.
5. How much time are your kids really spending in front of a screen every week? Use our Screen Time Tracker to find out. Fill in the start and finish times for each use and then write down the total for that session (there is room for up to three sessions per category, per day). At the end of the week, add up your daily totals to get the weekly total screen time hours. After that, decide if that amount of "screen influence" is acceptable and set limitations where needed. And, remember, every hour your child spends in front of a screen is time you're allowing your child to be influenced, for better or worse, by someone other than you. Go to imom.com and type in "screen time tracker" to download our Screen Time Tracker PDF.
Copyright 2016. iMOM. All Rights Reserved.
Reprinted with permission. For more inspiration and resources, visit iMOM.com.