By Dr. Dariano, D.O.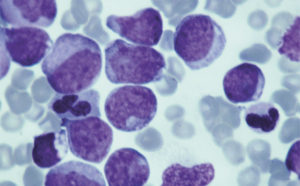 Leukemia is a type of cancer that affects 3% of the adult population, and it is the most common cancer in younger children under the age of 15. Leukemia affects the blood or bone marrow.
The majority of our blood is formed from stem cells within the bone marrow. Normal blood cells die and regenerate on a regular basis, but with leukemia, there is an overabundance of white blood cells. These white blood cells disrupt the production and life of red blood cells and platelets, which causes numerous adverse issues to occur in the body, cells, and organs. Some of these conditions are myeloid and lymphoid cellular growth disruptions.
Typically, white blood cells are powerful infection fighters, but with leukemia, the white blood cells malfunction and do not perform the way they were created to in fighting off infections. Leukemia has four different classifications according to progression and also four main types.
Primary Types of Leukemia
• ALL: Acute Lymphoblastic Leukemia
• AML: Acute Myeloid Leukemia
• CLL: Chronic Lymphocytic Leukemia
• CML: Chronic Myeloid Leukemia
It is believed that leukemia develops from both genetic and environmental factors.
Symptoms of Leukemia
• Bone pain
• Chills
• Chronic or severe infections
• Easy bleeding
• Enlarged liver or spleen
• Excessive sweating
• Extreme fatigue
• Fever
• Muscle weakness
• Nosebleeds
• Red dots on the skin (petechiae)
• Swollen lymph nodes
• Unexplained bruising
• Weight loss
Diagnosing Leukemia
There are multiple tests that can help in the diagnosis of leukemia. These include bone marrow or lymph biopsy, flow cytometry, bloodwork, lumbar punctures, and various imaging.
Treatment
Treatment will depend on the type and severity of the leukemia. These can range from a 'watch and wait' approach, chemotherapy, radiation to stem cell/bone marrow transplants.
Rivers Family Medicine continues to provide their patients with the highest quality of care; they are continually looking for innovative methods of working together with their patients to ensure that they are not only aware of but also involved in the management and improvement of their patient's health.
Along with primary care, Rivers Family Medicine offers the following services:
• In house laboratory
• Ultrasound
• Echocardiograms
• Electrocardiograms
• Nuclear stress testing
• Pulmonary function testing
• Joint injections
• Skin biopsies and minor skin procedures
• Immunizations
Steven J. Rivers, M.D.
Dr. Rivers is devoted to providing quality, compassionate, medical care with a focus on preventive medicine. He is aggressive in educating the patient and involving them in the decision making process. Services include, but are not limited to comprehensive medical care, health maintenance, minor surgical procedures, skin care, and preventive services.
Julio Ugarte M.D.
He thoroughly enjoys partnering with his patients to strive for optimal health and disease prevention. He uses both conventional and functional medicine in his integrated practice.
Patricia L. Cheston, PLC, PAC
She is certified by the National Commission on Certification of Physician Assistants and a long standing member in the American Academy of Physician Assistants and the Florida Academy of Physician Assistants. Patricia has practiced Family Medicine, Rural Urgent Care Medicine and Emergency Medicine for over 25 years in Florida.
Erin Darino, D.O.
Rivers Family Medicine welcomes Dr. Erin Dariano. Dr. Dariano has been practicing Family Medicine in Lima Ohio at Lima Memorial Hospital for the past seven years. Dr. Dariano, D.O, Completed her undergraduate degree at Bowling Green State University, and her medical degree at Ohio University College of Osteopathic Medicine. She is a board certified D.O., Doctor of Osteopathic Medicine. Dr. Dariano is committed to providing thorough, compassionate, mindful care for her patients.
To schedule an appointment with Rivers Family Medicine, please call (352) 205-4302.
Rivers Family Medicine
352-205-4302
www.riversfamilymedicine.com
1503 Buenos Aires Boulevard, Building 110
The Villages, FL 32159
Source:
https://www.aacrfoundation.org/Pages/leukemia-lymphoma-awareness-month.aspx