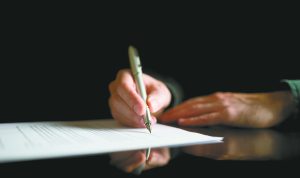 Estate planning does not need to be an expensive or time-consuming process, according to Attorney Patrick L. Smith. Whereas many attorneys bill their clients by the hour to handle their planning, Attorney Smith offers a complimentary consultation and has instituted a flat-fee system for his services. For example, a basic Will is a flat charge of $75.00 and a Non-Tax Trust Package is $695.00. This allows clients to know their costs from the start of planning and to determine their estate planning needs without surprises. Although Attorney Smith primarily practices in estate planning and asset protection, he regularly works to connect his clients with a network of attorneys to provide them with complete, affordable legal advice.
Attorney Smith also works to make legal advice accessible to the central Florida community through his weekly radio show, "Ask An Attorney," answering legal questions on the air from live callers, sharing legal information critical to FL residents, and educating his listeners on various topics.
He also incorporates information from other attorneys, financial advisors, CPAs, and other professionals who join him to answer his listeners' questions. "Ask An Attorney" airs on Gospel 90.3 FM every Saturday at 8am.
In addition to giving legal advice live over the radio, Attorney Smith is known for donating his time and legal services to multiple churches and charitable organizations in the community. Attorney Smith offers free seminars on a wide variety of legal topics for civic groups, clubs and other organizations, to inform them about the law and their legal rights.
Furthermore, Attorney Smith recently announced the publication of the third edition of The Florida Estate Planning Handbook through Certa Publishing, giving Florida residents an accessible, easy-to-understand introduction to key estate planning concepts. Adding to Attorney Smith's work is his law partner Attorney Joseph F. Pippen, Jr. who joined him on the third edition.
More information about Attorney Smith can be found at Joseph F. Pippen, Jr. & Associates' website: www.attypip.com. For your free consultation or to have Attorney Smith speak at your event or group, you may reach him at his Fruitland Park office by calling (352) 241-8760.