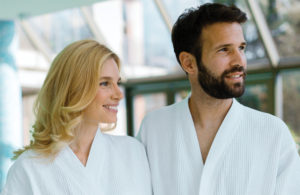 Cryotherapy is best known for reducing inflammation and easing the painful symptoms of Rheumatoid Arthritis, but did you know Cryotherapy has many other useful benefits, especially when it comes to ROMANCE?
Whole-body cryotherapy is a cold therapy that reduces systemic inflammation helping to improve your overall health and aid in athletic performance. Cryotherapy also reduces the stress hormone cortisol, enhances energy levels, enhances flexibility as well as improved circulation. How does that help with romance? Well, in other words, cryotherapy boosts libido and improves erectile dysfunction!
So, come to CRY-X for a quick 3-minute dip in the cryosauna, and then head back home for a little romantic evening and "chill."
Let CRY-X Boost Your Valentine's Day Celebration
In celebration of Valentine's Day, don't forget about CRY-X's Cryoskin service to look and feel your best. Nothing is sexier than confidence!!! Cryoskin offers both CryoSlimming for non-invasive fat reduction and CryoToning for skin tightening and cellulite reduction. Cryoskin works with the body's natural processes to break down stubborn fat and enhance collagen for beautiful and natural-looking results you will LOVE! With all that confidence, there is no need to be shy—Go ahead and leave the lights on!!!
How Does Cryotherapy Work?
Cryotherapy can help reduce inflammation, treat chronic pain, relieve arthritis, boost metabolism and tighten skin. CRY-X of Wesley Chapel offers "Whole-Body Cryotherapy" to benefit the entire body.
What is Whole-Body Cryotherapy (WBC)?
An octogonal chamber referred to as a cryo-sauna, is filled with cold nitrogen gas. Nitrogen is a natural non-toxic gas that makes up the majority of our breathable oxygen. The client steps into the chamber and the sub-zero temperatures first react with the skin. Cryotherapy treatment temperatures range between -130 to -200 degrees Fahrenheit. As the surface of the skin is cooled by 30-50 degrees within just three minutes, the brain puts the body into survival mode. This causes an anti-inflammatory response, which evokes dense amounts of oxygen to permeate the blood. This enriched blood containing oxygen, hormones, and nutrients is carried throughout the body, which aids in healing and reduced inflammation! All of this is accomplished in 3 quick minutes!
CRY-X's WHOLE-BODY CRYOTHERAPY: Cryotherapy is used for multiple methodologies including pain relief, decreased inflammation, cosmetic improvements of the skin, and weight loss.
Benefits of Cryotherapy
• Joint pain relief from autoimmune diseases such as RA & fibromyalgia
• Reduces inflammation, and muscle soreness.
• Helps to alleviate stress symptoms from anxiety and depression
• Increases alertness and mental focus
• Tighten skin and reduce the appearance of cellulite
• Boosts metabolism by burning 500-800 calories following each session
• Improves skin tone by enhancing collagen production
• Increase energy levels
• Improve sleep and treat sleep disorders
• Boost immune response
• Reduce recovery time for post-surgical and athletic injuries
• Increased flexibility and range of motion.
• Improved circulation
CRY-X of Wesley Chapel
CRY-X's mission is to improve the quality of life of each of our clients by providing treatments using top of the line cryotherapy technology. We welcome each of our clients to a unique and exciting experience and a warm compassionate staff. We want our clients to enjoy their experience and truly take advantage of the wonderful health benefits Whole-Body Cryotherapy has to offer.
Whether you are seeking alternative treatment for pain associated with fibromyalgia or needing a natural boost in your sports performance, or maybe just need some relief from insomnia, the benefits of Whole-Body Cryotherapy go on and on. So many people can take advantage of what CRY-X has to offer in the way of alternative healing.
CRY-X FEBRUARY SPECIALS:
Valid February 1-15th
Whole-Body Cryotherapy
New Client BOGO:
2 cryotherapy sessions for $70
Membership: Save $20 on your first month!
Only $179!
Group Special: 5 people only $125
($25/person) Share the CryoLOVE
with your friends and family!
Cryoskin
Couples Cryoskin Facials: 2 people $375,
save $125!!!
Pamper Pack: 3 Cryoskin sessions only $1000 (CryoSlimming, CryoToning, or BOTH!)
To find out more about Cryotherapy or to schedule your first appointment, please call (813) 377-2596 or visit them online at cryxcryotherapy.com