By Bryan Carter, MPA-C, Phlebology-Surgery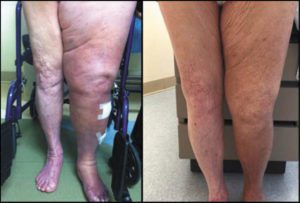 Blood is carried toward the heart through our veins, and is called venous flow; blood is carried away from the heart through our arteries and is called arterial flow. Because proper blood circulation aids the body's movement of nutrients and oxygen to the extremities, heart, brain and other organs, it's imperative to maintain and improve our arterial and venous blood flow as we age. However, it's not uncommon for arteries and veins to fluctuate directional flow, but with May Thurner Syndrome, it can lead to dangerous outcomes like impinged blood flow and DVTs (deep vein thrombosis).
The right iliac artery and the left iliac vein intersect within the pelvis. With May Thurner Syndrome, the left iliac vein can become "kinked" from the pressure of the right iliac artery, pressing it against the lumbar spine, and in turn, may cause the blood flow to become partially or fully blocked. This is how dangerous DVT's can form. Females suffer from this disorder more commonly than men.
Symptoms
The bad news is May Thurner Syndrome rarely shows signs and symptoms. Small indicators may be swelling in your left leg and/or some discomfort or the following.
• Enlarged veins
• Leg feels heavy
• Skin color changes
• Swollen leg
• Warmth
• Pain
Risks
• Blood clotting factors (medications, health-related or genetics)
• Hormonal Medications (birth control, menopause)
• Child birth
• Dehydration
• Scoliosis
• Spinal compression
• Female
DVTs are life-threatening and should be treated immediately. Deep vein thrombosis is a blood clot in the veins that are formed deep in within the legs. Vascular malformations, pelvic tumors or sitting for long periods of time are some of the risk factors that go along with DVTs.
DVTs are life-threatening, as they can lead to a pulmonary embolism. Thankfully, surgical solutions save lives. Every year, over 2 million people are affected by deep vein thrombosis, and sadly over 200,000 of these cases end in death. These are grim statistics since the treatment is minimal and so readily available to patients. It's unfortunate that there still seems to be more of a reactive process, than a proactive plan. Speaking to your physician is vital if you or a loved one have any of the venous symptoms or risk factors discussed above.
Diagnostic testing includes contrast venography, duplex ultrasonography, or other imaging of the iliac venous and arterial flow.
Treatment
With DVT's, and those caused by May Thurner Syndrome, the treatment is standard. A stent needs to be placed in the vein and/or artery to open the blood flow, as well as prescribing medication for anticoagulation, like warfarin or another blood thinner to prevent future clotting complications.
Making an appointment with a phlebologist, which is a vascular surgeon specializing in venous disease is your best line of defense against this common disorder.
At the Heart of the Villages, Bryan Carter specializes in venous issues and leg health, taking great pride in getting to know his patients on an individual level. He is supported by a full-service cardiology practice. Mr. Carter is a previous Army combat medic who obtained his Masters in Physician Assistant studies with a thesis in Venous Disease and Treatment. Mr. Carter has been treating vein problems since October 2002 and was one of the first Physician Assistants to perform thermal ablation—a treatment that soon made traditional vein stripping extinct. Bryan has personally trained physicians, physician assistants and nurse practitioners throughout Florida and Georgia and is an active member of the American College of Phlebology. He is also one of only a few to be inducted into the American Venous Forum.
To find out more, please visit their website at heartofthevillages.com, or call their office to schedule your appointment at, (352) 674-2080.
Bryan Carter, MPA-C
8575 NE 138th Lane
Lady Lake , FL  32159
(352)-674-2080
Toll Free: 1-855-432-7848 (Heart 4 U)
www.heartofthevillages.com