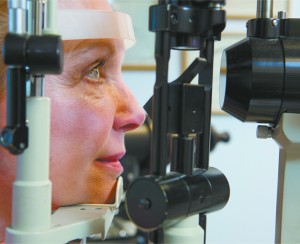 For those of us with 20/20 vision, it's easy to take noticing a friendly smile from across the room or reading a handwritten note for granted. But for those who have lost the ability to see clearly, it's often the little moments in life that are missed most.
"Losing vision or being totally dependent upon glasses can greatly diminish a person's quality of life," says Dr. Jeffrey D. Baumann, co-founder of Mid Florida Eye Center. "This is why we are always looking for new ways to help our patients regain sight and be independent of glasses."
Mid Florida Eye Center has helped Central Florida residents restore their vision and quality of life for over 25 years. Since the start of the practice in 1987, Dr. Baumann and co-founder Dr. Gregory J. Panzo have taken it upon themselves to seek out the latest in eye care for their patients. Both helped pioneer no-needle, no-stitch cataract surgery, and, with the addition of four ophthalmologists and five optometrists, five office locations, and two state-of-the-art surgery centers, they've grown their practice into one of the leading eye care centers in the nation.
Although they could sit back and reflect on their accomplishments, which include opening the area's first accredited outpatient eye surgery center, the doctors at Mid Florida Eye Center continue to push ahead. Each ophthalmologist has their own area of specialty, and each is relentless in their pursuit of the latest technologies and treatments.
With the caliber of its staff and status as a world-class facility, Mid Florida Eye Center is consistently chosen to participate in clinical research studies. "The best thing about being able to participate in these studies is that we're able to offer new and highly advanced treatments to our patients," explains Dr. Baumann. "Often these are available at a reduced cost—or at no cost—to the patient."
For Mid Florida Eye Center, keeping eye care convenient—and comfortable—for patients remains a top priority. Along with continuously analyzing and testing new equipment, the practice is renovating its lobbies and waiting  areas to provide patients with a serene, relaxing environment from the moment they walk in. Clinics are located in Mount Dora, Leesburg, The Villages, and Apopka. The practice's outpatient surgery centers are conveniently located at the Mount Dora and The Villages locations.
No matter what your eye care needs may be, you can be confident in the care you'll receive at Mid Florida Eye Center. Schedule your consultation by calling 1-888-820-7878 (toll-free) or 352-735-2020. Visit MidFloridaEye.com to learn more.