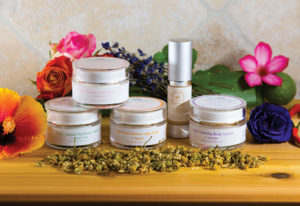 If you experience rashes, hives, redness, swelling, burning or itching, or have been diagnosed with skin conditions such as acne, rosacea, psoriasis or eczema, you may be interested to know that clinical studies have shown these conditions can benefit from CBD, or "cannabidiol," the second-most prevalent of the active ingredients of cannabis and derived directly from the hemp plant.
Doctors diagnose a great variety of skin conditions that can result from allergies, irritants, diseases and immune system problems. While we always recommend following doctors' recommendations, for additional help,many people are also turning to skincare products containing significant concentrations of CBD as well as other key ingredients.
According to CBD: A Patient's Guide to Medicinal Cannabis (https://www.projectcbd.org/medicine/cbd-preventative-medicine), when applied topically as an infused lotion, serum, oil, or salve, the antioxidants in CBD (more powerful than antioxidants vitamins E and C) can repair damaged skin.
"Cannabinoid receptors can be found in the skin and seem to be connected to the regulation of oil production in the sebaceous glands," said the authors. "Cannabis-based topical products are being developed to treat related issues from acne to psoriasis and can promote faster healing of damaged skin. In fact, historical documents show that cannabis preparations have been used for wound healing in both animals and people in a range of cultures spanning the globe and going back thousands of years."
To bring you the best of what CBD offers, CBD Healthcare Company has partnered with a formulator who has post-doctoral degrees in the field of pharmaceutical and cosmeceutical formulations and has spent more than 20 years researching and developing skincare and facial formulations. He has used this experience to develop our skincare and facial formulas, discussed below.
CBD Hydra Renewal Night Cream
CBD Healthcare Company's "CBD Hydra Renewal Night Cream" (https://cbdhealthcarecompany.com/
product/cbd-hydra-renewal-night-cream/) contains retinol, a long-trusted ingredient for fighting acne, on which the first study was published in 1943. Retinol, a vitamin A derivative that stimulates skin cell turnover, also helps eradicate imperfections and diminish the appearance of fine lines. CBD Hydra Renewal Night Cream is also formulated with ultra-refined CBD hemp oil that calms, soothes, and supports the skin's natural healing process. Our skincare formulas use only 99+% pure CBD extract, producing a consistent CBD profile essential for skincare and facial products.
CBD Healthcare Company's professional line of skincare and facial formulas combines Retinol, Hyaluronic Acid and CoQ10 with botanical extracts including edelweiss flowers, deep sea algae, lavender, lemongrass, jojoba and aloe. Available at CBDHealthcareCompany.com.
CBD Instant Purifying Mask
While gently cleansing and brightening skin, CBD Healthcare Company's "CBD Instant Purifying Mask" (https://cbdhealthcarecompany.com/product/cbd-
instant-purifying-mask/) also calms it using one of the product's key ingredients—rosehip seed oil—which contains high amounts of antioxidants and unsaturated fatty acids. These ingredients have been shown to have anti-inflammatory and antioxidant qualities as well, which may help address symptoms of eczema.
Regardless of which products you choose for skincare, keep in mind that adequate concentrations of CBD—along with other key ingredients listed above—are essential.
For more information, visit:
CBDHealthcareCompany.com
Use Promo Code Health at checkout for a 10% discount on your order
Statements have not been evaluated by the Food and Drug Administration. CBD Healthcare Company products are not intended to diagnose, treat, cure or prevent any disease.