By Melvin Field, M.D.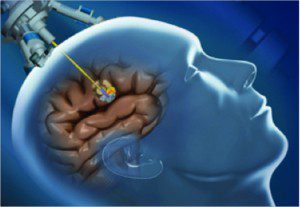 May is National Brain Tumor Awareness Month. According to the American Brain Tumor Association, nearly 70,000 new cases of primary brain tumors will be diagnosed this year, representing the leading cause of cancer-related deaths in males and females younger than 20.
This month is an opportunity for us to come together to highlight the tributes and triumphs of everyone impacted by brain tumors and to raise awareness of new resources and technological innovations in the medical community.
What's new in Neurosurgery?
The Florida Hospital Neuroscience Institute in Orlando now offers the NeuroBlate® System, a surgical technology that uses a pulsed laser to deliver targeted energy to abnormal brain tissue. The NeuroBlate System combines magnetic resonance imaging (MRI) and software-based visualization to allow surgeons to remotely destroy and coagulate tumors at multiple locations in the brain, at the surface or deep inside, through a computer module. During a procedure with the NeuroBlate System, a surgeon makes a small hole in the skull, approximately as wide as a pencil, and precisely guides a laser probe via an MRI compatible robotic driver to apply controlled amounts of heat until the targeted tissue is destroyed.
In traditional brain tumor surgery, physicians use MRI following a procedure to determine if the lesion has been removed. With NeuroBlate, however, the surgeon uses real-time MRI visualization throughout the procedure, which improves surgical decision making, which may translate into better clinical outcomes. NeuroBlate also provides a clinical solution for reaching some tumors that are difficult to access with standard surgery, presenting a new option for treating tumors that were previously considered inoperable.
What are the benefits?
The NeuroBlate System has the ability to remove diseased tissue, including tumors and lesions and other brain soft tissue intracranial growths, while leaving healthy tissue unharmed. Compared with the traditional open surgical approach, patients who receive the minimally invasive MRI guided robotic laser NeuroBlate method may experience less pain and reduced hospital length of stay.1,2,3
Where can I go for more information?
Please discuss your condition with your doctor. For information about brain tumors and treatment options please visit www.MyBrainTumorOptions.com. This website contains useful information including questions to ask your doctor and a glossary of terms to help patients and their families better understand brain tumor diagnoses and options.
1 Hawasli AH, Bagade S, Shimony JS, et al. Magnetic resonance imaging-guided focused laser interstitial thermal therapy for intracranial lesions: single-institution series. Neurosurgery. 2013 Dec; 73(6):1007-17.
2 Sloan AE, Ahluwalia MS, Valerio-Pascua J, et al. Results of the NeuroBlate System first-in-humans Phase I clinical trial for recurrent glioblastoma: clinical article. J Neurosurg. 2013 Jun; 118(6):1202-19.
3 Mohammadi, AM and Schroeder, JL. Laser interstitial thermal therapy in treatment of brain tumors – the NeuroBlate System. Expert Review of Medical Devices 2014 11:2, 109-119.
Melvin Field, M.D.
Dr. Melvin Field is the Director of the Minimally Invasive Brain Surgery Program at Florida Hospital Neuroscience Institute in Orlando. He is a member of the American Association of Neurological Surgeons, the Congress of Neurological Surgeons, the Society of Neuro-Oncology, the North American Skull Base Society, and the Society of Robotic Surgery. His clinical interests are in brain tumors and complex surgical disorders of the skull base.