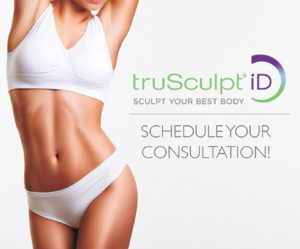 Did you know that 92% of people fail or give up on their New year's Resolutions? Only 8% of individuals stick with their routine; HOWEVER, even for those of us that are trying are hardest, sometimes, results are stagnant!
Why are you still struggling with those extra pounds, or that less than sculptured physique? Apparently, 92% of us need a little extra help to reach their goals and Trusculpt ID is a revolutionary treatment that's helping countless individuals do just that.
Total Nutrition and Therapeutics is proud to offer TruSculpt iD, a revolutionary non-surgical, body-sculpting treatment that allows you to personalize your ideal body in as little as one 15-minute treatment.
TruSculpt iD is a safe and effective technology that is clinically proven to permanently eliminate fat cells in stubborn areas around your abdomen and flanks. With truSculpt iD, you can get the body definition you want, even in areas that have been resistant to diet and exercise.
According to Cutera Medical Devices:
Personalized Body Sculpting: The Next Evolution
In recent years, the medical aesthetic industry has seen rapid growth in the number of body sculpting and body contouring procedures performed. The trend is projected to continue growing with the overall market growth of 16.3% year over year through 2020.
TruSculpt iD is the latest body sculpting treatment solution from Cutera, providing a personalized, hands-free and hand-held solution to revolutionize your practice. This powerful, non-invasive, Monopolar RF platform tailors to patients' individual needs and features Real-Time Temperature Control for clinically proven results, safety, and patient experience. TruSculpt iD treats the entire fat layer, resulting in an average of 24% fat reduction. It offers unique handpiece and placement location versatility and customized 15-minute protocols to treat a full abdomen or multiple body areas simultaneously.
Sculpting With Open Arms
TruSculpt iD offers a unique and personalized approach to improve upper arm contouring and definition. Unlike other devices, there is no placement limitation, it is easy to set up, and fast to treat. Provide your patients improved freedom to open their arms and wear sleeveless shirts with confidence.
• Unique approach to treat skin with laxity
• Sculpt challenging areas
• Synchronized treatment zones
• No downtime
• Sculpting To Get A Leg Up
Thighs are commonly out of proportion with the rest of the lower body causing growing interest in leg sculpting. TruSculpt iD offers an individualized and unmatched solution to regain proportion to inner and outer thighs of all shapes and sizes. Give your patients a leg up and the desire to flaunt their youthful shape.
• Versatile to treat various tissue densities
• Tailored for areas large and small
• Flexible treatment configurations
• Immediately resume normal activities
• truscrulpt® iD System
• Applications
• truSculpt iD Technology
TruSculpt iD provides an innovative RF technology that delivers clinically proven results to expand your body sculpting business. The system versatility allows for customized treatments to multiple body areas simultaneously based on patients need in as little as one 15-minute treatment protocol.
Radiofrequency (RF) Energy
TruSculpt iD delivers heat to the entire fat layer while maintaining a comfortable skin temperature – optimizing clinical efficacy and maintaining patient comfort. The holidays are upon us—Don't wait—Start your Trusculpt ID treatment now!
If you want drug-free alternative options for your health needs, TNT treats both male and female patients who desire alternative therapies to get to the root cause of their conditions.
Total Nutrition & Therapeutics
At TNT, their goal is to empower you to achieve your optimal state of health. Their vision is to create a wellness mindset momentum that is infectious—leaving obesity, illness, and disease behind—for lives that are truly healthy. Looking better, feeling better and functioning optimally is the key to a life of vitality! Let them help you achieve wellness for life!
Source: https://cutera.com/trusculptiD
Call them to day to schedule your appointment at (352) 259-5190.
Total Nutrition and Therapeutics
809 Hwy 466 Unit 202-C
Lady Lake, FL 32159
352.259.5190
www.TNT4ME.COM