Dr. Dariano, D.O.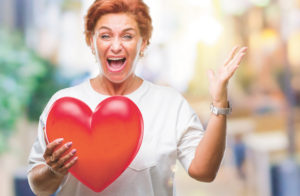 Heart disease is the leading cause of death for both men and women.  Heart disease is caused by atherosclerosis or plaque clogged arteries that restrict the blood flow in the heart. Every year about 735,000 Americans have a heart attack.
Warning signs for a heart attack:
• Chest pain or discomfort
• Upper body pain or discomfort in the arms, back, neck, jaw or upper stomach
• Shortness of breath
• Nausea, lightheadedness or cold sweats.
**If you are experiencing any of these symptoms seek medical attention immediately.
5 MAJOR Risk Factors for heart disease:
• Inactivity (Sedentary Lifestyle)
• High blood pressure
• Abnormal values for blood lipids
• Smoking
• obesity
February is the month of Valentine's Day, so among loving others make sure to take time to love YOURSELF!    Your heart is working  24 hours a day 7 days a week to make sure  your body has oxygen through blood flow to continue functioning. Unlike other organs your heart is made up of muscular tissue that can be conditioned like other muscles in your body.
A sedentary lifestyle is one of the 5 major risk factors for cardiovascular disease.   Exercise is important in maintaining strength in your heart.
American Heart Association recommendation for Physical Activity in adults:
For overall cardiovascular health:
• 30 minutes of moderate-intensity aerobic activity at least 5 days/week or
• At least 25 minutes of vigorous aerobic activity at least 3 days per week AND moderate to high intensity muscle strengthening activity at least 2 days per week.
For lowering blood pressure and cholesterol:
• Average 40 minutes of moderate to vigorous intensity aerobic activity 3 or 4 times per week.
Benefits of regular exercise on cardiovascular risk factors:
• increased exercise tolerance
• reduction in body weight
• reduction in blood pressure
• reduction in bad cholesterol
• increase in good cholesterol
• Increase in insulin sensitivity.
If you are unable to maintain the above listed recommendations don't worry, something is better than nothing!   Exercise is important to becoming heart healthy.  Love yourself and protect your heart!
Rivers Family Medicine continues to provide their patients with the highest quality of care; they are continually looking for innovative methods of working together with their patients to ensure that they are not only aware of but also involved in the management and improvement of their patient's health.
Dr. Erin Dariano – Dr. Dariano has been practicing Family Medicine in Lima Ohio at Lima Memorial Hospital for the past seven years. Dr. Dariano, D.O, Completed her undergraduate degree at Bowling Green State University, and her medical degree at Ohio University College of Osteopathic Medicine. She is a board certified D.O., Doctor of Osteopathic Medicine. Dr. Dariano is committed to providing thorough, compassionate, mindful care for her patients.
To schedule an appointment with Rivers Family Medicine, please call (352) 205-4302.
Rivers Family Medicine
1503 Buenos Aires Boulevard, Building 110
The Villages, FL 32159