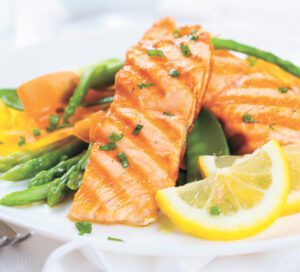 We all know that getting enough sleep, exercise, and socializing are critical elements to aging well, but when it comes to nutrition, some information can be confusing. At Pacifica Senior Living, they understand that a combination of healthy foods that are delicious, comforting, pleasing to the eye, and beneficial for the body is important to their residents and provides the nourishment they need to thrive.
Increasing your intake of fresh or frozen vegetables and fruits is a great way to increase fiber, flavonoids, carotenoids, phytonutrients, and numerous vitamins in your diet. This will feed your cells and can even help to reduce some of the damage that may have taken place over the years. It's also wise to add in lean, good-quality proteins. These can be plant-based or animal products, or a combination of both. Nourishing your body with high-quality ingredients is essential for overall health.
After years of cooking and cleaning, residents at Pacifica Senior Living love that they can eat restaurant-quality meals each and every day without the hassle of shopping, cooking, and cleaning up. It's like a vacation from the mundane in a luxurious senior community that is full of friendly staff and other residents who become like family.
The chef-inspired meals at Pacifica Senior Living are bar none for their residents. A few of the favorites include the following:
• Hawaiian-inspired grilled chicken and pineapple
• Country-fried chicken, mashed potatoes, gravy, and steamed vegetables
• Filet mignon with a demi-glaze, caramelized onions and peppers with couscous
• Roasted chicken with roasted potatoes and carrots and a side of broccolini
• Grilled salmon, asparagus, and rice pilaf
• Raspberry and roasted marshmallow-topped lemon curd
Meals can be custom-tailored to your specifications and dietary needs. They can also be delivered to your room if needed.
Pacifica Senior Living is Like a Never-Ending Vacation
On the job or at home, you've worked hard all your life. Now, it's your time to enjoy retirement living to the fullest. No grass to mow or home repairs to tend to – simply relax and focus on the things you love to do. It all starts with selecting a luxurious and carefree independent living apartment home.
PACIFICA SENIOR LIVING OCALA
At Pacifica Senior Living Ocala, you will find an award-winning community that is designed to give seniors in both Independent Living and Assisted Living a retirement lifestyle that makes the most of these golden years. In our community, retirement isn't the end, but the next step in a grand adventure that is still filled with excitement and fun, while recognizing the need our residents have to relax and be cared for. We want to be more than the place that our residents live, we want to be the place they call home, and we work every day to make sure that happens.
Pacifica Senior Living understands that along with providing the best patient care, providing the entire family the support and education they need is essential for enhancing understanding and contentment for families.
Unlike most facilities, their home-like accommodations are custom built to help ease what can be an overwhelming time in life. This is precisely what sets them apart and makes them stand out.
If you would like to learn more about life at Pacifica Senior Living Ocala, please give us a call today, or schedule your own private, personalized tour and see what makes us great for yourself! We look forward to meeting our new neighbor.
Pacifica Senior Living in Ocala, FL
At Pacifica Senior Living Ocala, our residents enjoy customized care, gourmet dining, life-enrichment programming, and much more. Our senior living community is staffed 24 hours a day, helping residents live with peace of mind while enjoying our luxury amenities and housing. We are happy to help families learn more about our community and how Pacifica Senior Living Ocala compares to assisted living facilities in the area.
Pacifica Senior Living also follows strict hygiene and disinfection protocols to keep our residents and staff safe!
It's easier than ever to take an initial tour— We have a link on our website to give you and your loved one a virtual tour at PacificaSeniorLiving.com. We're always here to answer your questions or to set up  a tour of our charming community. Please call us at 352-414-4743.