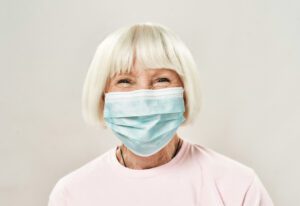 During the past several months, we've all learned the importance of being diligent about physical distancing, wearing a face covering and washing our hands. With the upcoming flu season, it's even more necessary to keep up with these critical protocols. Pacifica Senior Living practices stringent precautions and assists residents with proper, ongoing hygiene.
Pacifica Senior Living Guidelines
• Check temperatures of staff, visitors and vendors daily
• Maintains well-disinfected public areas (door-knobs, tables, chairs, counters, bathrooms, etc.)
• All staff maintain rigorous hygiene of workspaces and themselves
• PPE is provided if needed (masks, gloves, etc.)
• Carefully screen and monitor visitors/vendors on property
• Follows all guidelines from the CDC (Centers for Disease Control and Prevention)
• Flu vaccinations available onsite
• 24-hour onsite physician available
Pacifica always aligns the health and safety of their residents as their utmost priority. Additionally, Pacifica can assist with medication management and implement protocols to help seniors thrive in all manner of times. Furthermore, Pacifica is well-equipped with a generator and solar panels onsite. With plenty of activities, patients will never feel isolated or be faced to watch the news all day long (which exacerbates depression in many individuals).
Pacifica has enough food and supplies in the community for all residents, and consistently restocks. They prepare meals three times per day, as well as snacks and hydration. Pacifica provides access to 24-hour health care staff, regular checks made to check on the residents for care and safety, planned activities to avoid isolation that meet the CDC guidelines, and physician's visits within the community.
Pacifica offers 24-hour care, doctor onsite visits, housekeeping service, laundry service, chef prepared meals and community transportation.
Their Resident's health and safety is always Pacifica's top priority, and they thank you in advance for helping to support them in a company-wide efforts to keep the community COVID-19 free.
PACIFICA SENIOR LIVING OCALA
At Pacifica Senior Living Ocala, you will find an award-winning community that is designed to give seniors in both Independent Living and Assisted Living a retirement lifestyle that makes the most of these golden years. In our community, retirement isn't the end, but the next step in a grand adventure that is still filled with excitement and fun, while recognizing the need our residents have to relax and be cared for. We want to be more than the place that our residents live, we want to be the place they call home, and we work every day to make sure that happens.
Pacifica Senior Living understands that along with providing the best patient care, providing the entire family the support and education they need is essential for enhancing understanding and contentment for families.
Unlike most facilities, their home-like accommodations are custom built to help ease what can be an overwhelming time in life. This is precisely what sets them apart and makes them stand out.
If you would like to learn more about life at Pacifica Senior Living Ocala, please give us a call today, or schedule your own private, personalized tour and see what makes us great for yourself! We look forward to meeting our new neighbor.
Pacifica Senior Living
(352) 414-2507
www.PacificaOcala.com