Submitted by Hospice of Marion County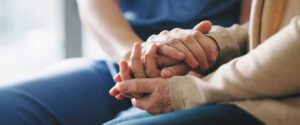 November is National Hospice Month and what a way to help us celebrate it! Modern Healthcare announced on October 12 that Hospice of Marion County ranked #45 in the nation and is the only hospice organization in the state of Florida to make this year's Top 150 Best Places to Work in Healthcare. In making the announcement, the magazine's publisher said "Making the Best Places to Work list is rewarding in a normal year. Being one in 2020 is extraordinary. You should be incredibly proud."
That says a lot about the organization founded by a group of volunteers in the late 1970s and became accredited in 1983. Hospice of Marion County has come a long way in those 37 years. With nearly 450 employees, HMC has:
• earned Deemed Status from the Joint Commission, the national gold standard for quality healthcare,
• three hospice houses, with the majority of its 3,000 annual patients receiving care in their own homes, assisted living facility or nursing home,
• its own durable medical equipment company,
• expanded services with its Palliative Supportive Care, a consultation company for those in any stage of illness,
• the Monarch Center for Hope & Healing, which  offers grief care to the Marion County community at no charge,
• Transitions, a support program with 150 clients who may still be receiving curative care, and
• is the only hospice in Marion County to attain Level 5 in the National We Honor Veterans program.
HMC strives to cover all the needs of those facing the end of life, living its mission statement daily: To provide exceptional compassionate end-of-life care to the community.
"Hospice of Marion County was excited to learn that we ranked #45 in the Provider/Insurer category out of 150 top healthcare organizations this year, especially since this was our first time being included in this prestigious award. Our team of professionals continue to amaze me with their dedication to excellence and compassion during this pandemic and are among the best in the nation," said Hospice of Marion County CEO Rick Bourne.
Hospice of Marion County employees – from frontline doctors and nurses to office workers and support staff – participated in a survey conducted in May, just as the coronavirus outbreak was at its height in the first wave. Despite the stress of continuing to see patients and provide services at the same level, the staff took time to write about the best parts of their jobs and why they are dedicated to the work of hospice and its mission. The program looked at how companies empower employees to provide patients and clients with the best possible care, products and services while creating a flexible and responsive work environment. How companies have navigated the pandemic is only part of the story. They were also scored on traditional measures such as benefits and transparent communication from leadership.
Join us for several community events during November to help increase awareness about the benefits of hospice care.
Visit www.hospiceofmarion.com for more info about these on our calendar page. (352) 873-7400 for general info or (352) 873-7415 for referrals.