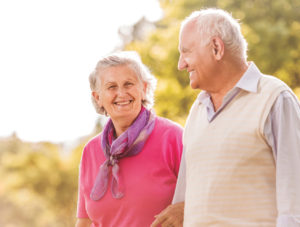 Parkinson's is a complex condition that progresses over the years, and to date, has no cure. It is a neurodegenerative disease that wreaks havoc on the brain, which in turn interferes with the body's fine motor skills. The brain's neurons (nerve cells) are what create dopamine and the deterioration of this process is the cause of Parkinson's disease.
In Parkinson's patients, the dopamine chemical production is slowed down and over time it can be completely diminished. Some of the first symptoms of early Parkinson's' disease are impaired sense of smell, constipation and sleep disorders. These early signs are found in the medulla and the enteric region of the brain. Some patients will have diminished voices, develop rigid muscles and show little to no expression on their faces within the middle stages of the disease.
As the disease progresses, it eventually reaches the substantia nigra region of the brain, which controls the bodies movements. Once this stage is reached, patients have a difficult time controlling their bodily functions, and they develop tremors and have jarring irrepressible movements.
Because there is no cure, the main treatments are given through traditional pharmaceutical medications, which are available to slow down the disease's development. Many of these drugs increase the dopamine in the brain, and in some cases, replaces the dopamine altogether.
Along with medication management, physical therapy for balance and stretching is helpful. Occupational Therapy is critical to help the individual maintain and relearn how to perform daily activities. Speech pathology is also very effective in maintaining and improving speech related issues that the disease so commonly causes.
Making Long-Term Choices
When it becomes taxing to live alone or care for your loved one, there are difficult choices to make about your future. Considering an assisted living facility can be overwhelming. How do you know if you're making the right choice?
All facilities are not equal, and that is particularly the case with Trinity Springs, because they have set themselves above the average facility. How are the different? Newly renovated and teeming with luxury, Trinity's is a faith-based senior living community, where good things come in threes.
They offer three levels of living, Independent, Assisted and Memory Care. This allows individuals and couples to live freely and then move up in levels as their care needs change.
Residents of their maintenance-free independent living neighborhood will have the freedom and time to do the things they want to do, not the things they have to do. The convenient Oxford location will make it easy to drop by The Villages®, FL, for dinner or a show, attend church services, pick up fresh veggies at the farmers market or taste local vintage wines at nearby wineries.
They have 107 assisted living apartments, which are designed to meet the needs of residents who need a bit of extra support during their daily lives. Their highly trained, compassionate personal care team will be on duty 24 hours a day, seven days a week, to assist with dressing, bathing, toileting, grooming, eating, walking, taking medications, and all other activities of daily living, based on your personal service level.
Their compassionate, experienced memory care team members are specially trained to care for those with Alzheimer's disease, dementia or other forms of neurodegenerative disorders. Programs and activities are designed to meet each individual's capabilities, needs and preferences while providing meaningful interactions and experiences. Their assisted living memory care environment is designed to be safe, secure and engaging. Both indoor and outdoor spaces offer an atmosphere in which residents can live their best lives.
Trinity Springs is a nonprofit senior living community from Cassia, a national leader in senior housing and healthcare. They're an inclusive community conveniently located in a serene environment.
To find out more, please schedule your tour today.
Trinity Springs
12120 Co. Rd 103, Oxford, FL 34484
352-480-1002
www.trinitysprings.com