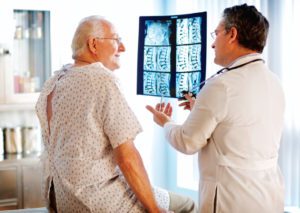 The spine is an intricate structure that must be treated with extreme care and expertise. With so many doctors claiming to offer outstanding results, patients are rightly confused. Many physicians simply push office procedures that should really be done by a surgeon as opposed to a rehab or pain doctor. The Total Spine & Brain Institute is a step above the rest. Offering groundbreaking technology and advanced procedures, Dr. Tien V. Le and his team put the patient's needs and outcomes first! If you truly want cutting-edge care from an expert in his field, Dr. Le's results and patient testimonials speak for themselves.
MINIMALLY INVASIVE
SPINE SURGERY EXPERT
Dr. Le brings a unique skill set to the Tampa Bay area with expertise in minimally invasive spine surgery and neurosurgery. A rare asset to the Tampa Bay community, Dr. Le is not only a Board-Certified neurosurgeon, but he is also dual-Fellowship-trained in Minimally Invasive Spine Surgery and Complex Spinal Deformities. Dr. Le is one of only a select few in the world who have been trained by Dr. Kevin Foley, regarded by many as the father of modern-day Minimally Invasive Spine Surgery.
GROUNDBREAKING ROBOTIC ASSISTED SPINAL SURGERY
Dr. Le has been certified for the use of robotic-assisted spine surgery since 2013, and he has the distinction of being the first surgeon in Tampa and all of Hillsborough county to perform robotic-assisted spine surgery using the state-of-the-art Mazor X™ spinal robotics platform. Robots do not replace the hands of a skilled surgeon, but they can augment the well-established benefits of minimally invasive spinal surgery, including shorter hospital stays, less blood loss, less infection risk, reduced scarring, smaller incisions, and better patient functional capacity.
PRACTICE PHILOSOPHY & INTERESTS
Dr. Le's practice philosophy is straightforward: Treat the patient, and not the MRI. The truth is, non-surgical options make up the majority of treatments offered. He has the experience and clinical judgment to understand that a patient may not need surgery just because they have been diagnosed with a condition on an imaging study. If surgery is the answer, however, his compassionate, patient-tailored approach is focused on providing a targeted, minimally invasive surgical solution that reduces collateral damage to surrounding normal tissues.
In addition to minimally invasive and robotic-assisted spine surgery, Dr. Le also performs and is an advocate for motion-preserving (non-fusion) spine surgery for carefully selected candidates. Motion preserving spine surgery using artificial cervical discs achieve the same goals as a fusion in the cervical spine, specifically neural decompression and stabilization, but does not fuse the bones and protects the discs above
and below.
DR. TIEN LE IS AN EXPERT
IN MINIMALLY INVASIVE SPINE SURGERY, ROBOTIC SPINE SURGERY, & COMPLEX SPINE SURGERY
Dr. Tien V. Le is a Board-Certified and dual Fellowship-trained Neurosurgeon who earned his Bachelor's degree in Biology from the University of North Florida, where he graduated summa cum laude with Baccalaureate Honors. He then received his medical degree at the University of South Florida Morsani College of Medicine (USF), having earned the distinction of Neurosurgery Student of the Year during his senior year. His neurosurgery residency training was done at the world-renowned Cleveland Clinic and USF, where he was elected and served as Chief Resident during his final year.
Dr. Le has completed two fellowships in Minimally Invasive Spine Surgery. His first fellowship was during residency at USF, where he trained under Dr. Juan Uribe. After completing his residency, Dr. Le was then selected by
Dr. Kevin Foley to the prestigious post-graduate Spinal Surgery Fellowship at Semmes-Murphey Neurologic & Spine Institute. While there, he also obtained additional fellowship training in scoliosis, deformity, and complex reconstructive spine surgery with Dr. Julius Fernandez.
Dr. Le is prolific in his academic contributions to advance the field of neurosurgery and spinal surgery. He has authored more than 20 peer-reviewed spinal, neurological, and neurosurgical journal articles, several book chapters, and has presented at various professional meetings. He is also a former reviewer for the journal, Spine.
Finding pain relief, increasing range of motion, and living a higher quality of life are a few reasons why patients of Total Spine & Brain Institute recommend Dr. Tien Le to their associates, friends, and relatives. Don't trust your spine to just anyone, call and schedule your consultation with Dr. Le today.
Tien V. Le, MD, FAANS
Neurological Spine Surgery
Total Spine & Brain Institute
1110 Nikki View Drive
Brandon, FL 33511
(813) 444-5567 office
(813) 444-5569 fax