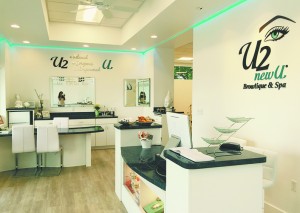 "Serenity now" is what most people try to find in their busy lives, let the people at U2 NewU Browtique & Spa help you get to that peaceful place.
The spa offers massages, facials, eyebrow and body waxing, organic facelifts, pedicures and a host of other services.
"We provide personal packages that fit each person's personal needs, and we use all organic and chemical-free products," owner Ani Miryala says. "We also customize treatments for you to do at home."
The spa carries a large selection of holistic and organic products made by Ani, who takes special pride in her Indian heritage.
Clients walk away glowing and uplifted.
"After the organic facelift, my skin feels fabulous! I have suffered from rosacea, and chemicals and chemical peels have not worked. My face has responded beautifully to Ani's customized natural treatments, even after the first facial. I have noticed the rosacea is gone and my pores are tightened. After four treatments, I have noticed my crow's feet and wrinkles are disappearing. It's amazing what natural products can do. My friends and family have even noticed the difference! I'm a pretty skeptical person, but I can't say enough about this treatment. I highly recommend Ani's treatment to everyone!" said client Deb M.
"I recently moved here from Indiana and after all the packing and unpacking, I was in a lot of pain. I came in for a massage, but I wasn't expecting anything like this. I started to tell the therapist where I hurt the most, but after she worked on me for a little while, she could tell me more about what was going on in my body than I could possibly tell her. They worked on me for 3 1/2 hours, and I feel wonderful. I feel like I could run a marathon. I'm so amazed at how I feel that I am booking a massage for my husband," said Lou Long, of the Village of Lynnhaven.
Come and pamper yourself at U2 NewU Browtique & Spa, Monday through Saturday, 9 a.m. to 6 p.m. The spa is closed on Sundays.
U2 New U Browtique & Day Spa
4313 E County Rd 466 #101,
Oxford, FL, 34484
Call Us:
352-748-1562
u2newuthevillages.com