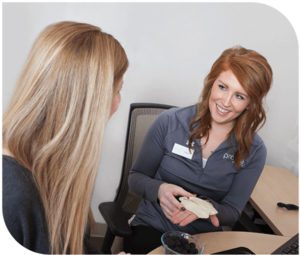 Being overweight can cause serious long-term health issues, and the statistics of obesity in the United States are staggering.
More than 70 million people are considered obese, and 72% of adults over the age of twenty are considered overweight.
Obesity and unhealthy weight gain can lead to the following:
• High blood pressure (hypertension)
• Diabetes
• Asthma
• Sleep apnea
• Musculoskeletal disorders
• Arthritis
• High Cholesterol
• Heart disease
• Cancer
• Stroke
Since May is High Blood Pressure Awareness Month, we're shedding light on the health risks of hypertension associated with being overweight.
Hypertension
High blood pressure has little to no symptoms and is often referred to as the silent killer. High blood pressure can lead to stroke, heart disease, and sudden cardiac arrest. It's imperative to check your blood pressure regularly and ask yourself. How has my blood pressure changed, and what does that mean? Typically, the systolic blood pressure (top number) rises with age, while the diastolic blood pressure (bottom number) tends to fall. Blood pressure can increase due to several factors, the most common include, age-related hormonal imbalance, high salt intake, drinking alcohol, tobacco use, and narrowing in the arterial and vascular system due to plaque (atherosclerosis).
Due to age, even those on blood pressure medication can still see increases in their systolic pressure. However, most individuals can lower their blood pressure through exercise, weight loss, healthy eating, and abstinence from tobacco.
Symptoms of Hypertension
• Lightheaded or Fainting
• Dehydration
• Blood Loss
• Palpitations
• Thumping in ears
• Shortness of Breath
• Flushing
• Headaches
• Dizziness
• Confusion
The American Heart Association has changed its guidelines for blood pressure. Essentially, 120/80 is considered normal. Anything under those numbers is primarily healthy (but not too low), and anything over is borderline high to dangerously high. When the pressure gets too high, having a stoke, even at a younger age is not uncommon.
What Can You Do?
It's critical to get serious about weight loss. If you make the decision to lose weight, your health will inevitably improve. Many people that change their diet and add exercise into their lifestyle can lower their blood pressure naturally and significantly reduce their risk of heart disease, stroke, and other adverse conditions. Losing weight can also help regulate and balance hormones, and you will look and feel better and have more energy and confidence.
Profile by Sanford offers their clients one-on-one lifestyle coaching that includes customized meal plans, activity, and exercise advice and walks you through the process of reaching your goals in the most timely, safe, and efficacious manner.
Profile by Sanford—No Shots, No Medication, No Side Effects
Profile® by Sanford® is changing the way people approach weight loss. We create a personalized nutrition, activity and lifestyle coaching program designed to help members lose weight and keep it off. Our dedicated team of Certified Profile Coaches educate and motivate members through every stage of your weight loss journey. Best of all, the personalized weight loss program is designed to instill internalized habits that will allow you to maintain the results for years to come.
At Profile® by Sanford®, we know there's more to losing weight than counting calories and points. That's why we created Profile Precise – a test that harnesses the power of genetics to map your DNA to a nutrition plan tailor-made to help you reach your goals.
Profile Precise is our latest innovation to help take the guesswork out of healthy lifestyle change. The test analyzes how your body metabolizes carbohydrates, providing you and your Certified Profile Coach with information to more effectively guide you on your weight loss journey.
Profile by Sanford is a top-rated weight loss program in Carrollwood, FL
Why Profile by Sanford – Tampa, FL- Carrollwood Is Right for You
We are proud to help Carrollwood residents achieve healthier lifestyles through custom-tailored weight loss plans. Created by Sanford Health physicians, Profile by Sanford – Tampa, FL- Carrollwood members receive one-on-one coaching and an effective support system that helps you achieve your health goals, reach your desired weight, and maintain your new lifestyle.
Limited Time Offer:
Get a free consultation and join the program for half off!
Get a more personal touch to achieve the results you need. Call Profile by Sanford – Tampa, FL
Carrollwood at 813-497-7212 today!
Profile by Sanford – Tampa, FL
14837 N Dale Mabry Hwy.
Tampa, FL 33618
813-497-7212
www.profileplan.com/tampa-carrollwood