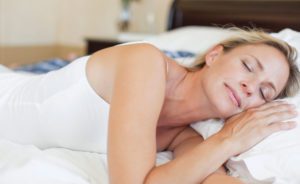 The term "Good Sleep hygiene," might seem strange; it's concerning the critical importance of high-quality sleep without disruptions.
When we sleep, we actually critical promote healing properties throughout the body.
Getting a good night's sleep is critical for optimal health. The side effects and complications associated with sleep disorders are irritability, fatigue, high blood pressure, cardiovascular disorders, chronic disease, diabetes, depression, behavioral issues, stroke, and brain function impairment. If not rectified, over time, sleep deprivation can lead to heart attacks, stroke, diabetes, and other serious complications.
According to the National Sleep Foundation, insomnia and sleep disruptions can be caused by the following:
• Medical conditions (sleep apnea, back pain, acid reflux, arthritis)
• Depression
• Anxiety
• PTSD
• Lifestyle Disruptors (naps, shift work, circadian
rhythm imbalance)
• Medications
• Caffeine
• Alcohol
• Nicotine
• Heavy meals
On top of these disturbances, lies the most common issue that interferes with circadian rhythm, which is blue light. Pathways of brainwave activity and wavelengths lie in various regions of the brain, and they can be affected by stimuli and blue light: Delta waves promote deep sleep and regeneration, beta make us sleep lighter with emotional dreaming, alpha promotes faster activity in a relaxed state, and theta causes stress and anxiety.
Blue light emits wavelengths that contribute to sleep disturbances within our brains. Blue light comes from artificial lighting and electronics like fluorescent and LED lightbulbs, laptops, mobile phones, iPad, television, some alarm clocks, fiber-optic cable boxes, and other devices that use blue light. The issue is that blue light makes your brain think that it's still daytime, which makes it difficult to fall and stay asleep.
Can CBD Help You Sleep More Soundly?
In 2019, Dr. Scott Shannon and his researchers conducted a study called, "Cannabidiol in Anxiety and Sleep: A Large Case Series." Their objective was to determine whether CBD helps improve sleep and/or anxiety in a clinical population. The final sample consisted of 72 adults presenting with primary concerns of anxiety or poor sleep. Anxiety scores decreased within the first month in 57 patients (79.2%) and remained decreased during the study duration. Sleep scores improved within the first month in 48 patients (66.7%) but fluctuated over time. CBD was well tolerated in all but 3 patients. Their conclusion reported that cannabidiol may hold benefit for anxiety-related disorders, and that more controlled clinical studies are needed.1
There have been many studies purporting that CBD is well tolerated as an add on sleep enhancer. It is thought to balance the serotonin receptors in the brain. It's always best to research any new therapy for your own knowledge and judgement.
At Your CBD Store, we believe in bringing the highest quality CBD products to market. We formulate our products with our customers' needs in mind, using other cannabinoids and terpenes, creating unique synergies that increase efficacy, target specific ailments, and increase the binding of CBD. We believe you the customer should see our product from soil to oil and should be seeing the best product on the market along that journey. By setting the standards in the CBD industry, Your CBD Store is moving plant medicine to the 21st century.
Phytocannabinoid rich (PCR) hemp has a naturally high CBD level, and an abundance of other beneficial cannabinoids (CBG, CBN, CBC), as well as flavonoids, terpenes, and essential amino acids.
Your CBD Store Products
Though hemp and marijuana are both cannabis plants, they are not the same. The chemical composition is different, especially when it comes to THC levels. Hemp has a much lower THC level, less than 0.3%. Our CBD products come in various forms and dosages to meet each customer's needs and preferences. You can choose from water-soluble, edibles, tinctures, soft gels, vaping e-liquids, and topical applications. We even have tinctures and CBD treats for pets.
Tampa
13721 N Dale Mabry Hwy, Tampa, FL 33618
813-435-3991
DISCLAIMER: At no point can we guarantee that a false positive on a drug test will not occur. CBD and THC-9 at this point are difficult to distinguish in field tests and other quantifiable drug tests. We do not recommend you take the product if this is a sensitive issue at your workplace, instead show your employer our HPLC lab reports for our CBD products to begin starting the conversation.
*The statements have not been evaluated by the Food and Drug Administration. The products are not intended for the cure, diagnosis, mitigation, treatment, or prevention of disease in man or animal.
Source:
https://www.ncbi.nlm.nih.gov/pmc/articles/PMC6326553/