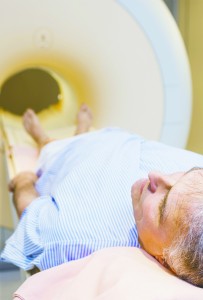 Dave Elliott moved to Citrus Springs from Minnesota to escape the cold winters. But two years after the move while soaking up the sun, the 74-year-old retired mechanical engineer was told his PSA level rose dramatically, indicating possible prostate disease.
Shortly after, Elliott underwent a biopsy. His diagnosis: stage 3 prostate cancer.
"My wife and I were sitting in the doctor's office when I got the news," says Elliott. "The first thing I did was look at my wife and she put her head in her hands. But I wanted to know how far it had progressed, how bad it was and wanted to get it done. I was ready to fight."
His two brothers were both diagnosed with prostate cancer, and they had their prostates surgically removed. But his doctor recommended radiation therapy with 21st Century Oncology in Beverly Hills instead. Still a mechanical engineer at heart, Elliott became fascinated with the complex radiation therapy machines.
"When I got my first treatment, I was amazed and impressed by the equipment," he said. "I couldn't stop talking with technicians about the machine and how it worked. They were very knowledgeable and indulged my inquisitive nature."
Elliott was treated by Board Certified Radiation Oncologist, Ravi Sandrapaty, M.D.
"At 21st Century Oncology, we offer state-of-the-art radiation therapy with a machine known as a linear accelerator with RapidArc® technology," says Dr. Sandrapaty. "The equipment aims high doses of targeted radiation at cancer cells from outside the body, rotating 360 degrees around the patient. This damages the cancer cells, and causes them to die, with minimal risk to surrounding healthy tissue."
RapidArc® Radiotherapy technology is an enhancement on the linear accelerator at 21st Century Oncology in Beverly Hills. It provides a very precise radiation therapy treatment, with the daily treatment often in less than two minutes, while maintaining the accuracy of the treatment and comfort of the patient. RapidArc® Radiotherapy, as its name suggests, allows for very rapid daily treatment, which is a great convenience to the patients.
For Prostate Cancer Awareness Month, observed in September, Elliott is sharing his story in hopes of getting other men to speak up about the disease and educate them about radiation therapy.
"I would tell all men to have your PSA checked regularly," he says. "If anything is irregular, get it checked further.
If it takes a biopsy, just get it done."
Now finished with treatment, Elliott is enjoying spending time with his wife of almost 40 years and most of all, riding his motorcycle in the Florida sun.
"I love my bike and I'm very happy to be able to still ride. I'm loving the summers here – the only snow I want to see again is on the flat screen."
About 21st Century Oncology:
21st Century Oncology is the largest global, physician led provider of Integrated Cancer Care services. The company offers a comprehensive range of cancer treatment services, focused on delivering academic quality, cost-effective patient care in personal and convenient settings. As of December 31, 2015, the Company operated 181 treatment centers, including 145 centers located in 17 U.S. states and 36 centers located in seven countries in Latin America. The company holds market-leading positions in most of its domestic local markets and abroad.
For more information about our services, visit
www.21co.com/centralfl
or call (352) 746-1100.
21st Century Oncology ›
3201 Southwest 33rd Road Ocala, FL 34474 (352) 291-2495
21st Century Oncology ›
3406 N. Lecanto Highway, Suite A Beverly Hills, FL 34465 (352) 746-1100