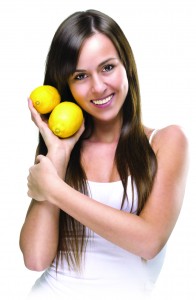 Lemons. We see them everywhere, but what you might not know is that this highly acidic fruit is used all over the planet by various beauty experts, and for good reason. Lemons are a fabulous source of vitamin C, calcium, magnesium and potassium—all antioxidants that improve the look and feel of our hair, nails and skin.
So we present nine awesome uses for lemons you should know. Tip: Keep in mind that lemon juice should not be left on the body for extended periods of time and may have severe reactions when exposed to the sun. Always consult with your doctor if you have any concerns.
Teeth Whitener – Professional teeth whitening treatments can cost a fortune. Save yourself a lot of money and time using baking soda and lemon juice. Mix the two ingredients into a bubbly solution and put onto your teeth with a Q-tip. Leave on for no more than one minute (the acid is strong enough to break down tooth enamel) and gently scrub off with a toothbrush.
Chapped lips – It is as easy as massaging lemon wedges onto your lips before you go to sleep. Leave it on overnight and wash off the next morning. Lemon juice works as an exfoliant and removes any dead skin cells resulting in softer, smoother lips.
Remove Blackheads – Take a lemon and slice it in half, rub the juice all over your face and wait five minutes before rinsing it off with cold water. Lemons have antibacterial properties, making it a perfect blackhead remedy. Blackheads are caused by clogged pores, and the acid called alpha hydroxyl from the lemons help to exfoliate the skin.
Dandruff –  It is as simple as rubbing lemon slices onto your scalp and leaving the juice on for an hour or so. You can magnify the effect by adding 4 tablespoons of vinegar. Follow it by washing your hair with lukewarm water.
Lighten Your Hair – Skip the dye. This is a perfect and gradual remedy for sunny days. Mix the juice from four lemons with ¼ cup of warm water, put it in a spray bottle, and spray it in your hair until it's damp. Make sure you only expose your hair to the sun for about 30-60 minutes, depending on how light you want to make it. After you're done, take a shower and use conditioner, as lemon juice can sometimes dry out your hair.
Remove Calluses, Corns, And Warts – Using the inside of a lemon (the white part) and placing it against any of these skin imperfections will help to dry out the callus, corn, or wart. Leave it on overnight and in about week they should fall off.
Foot Scrub – For your next home pedicure, combine the juice of half a lemon, 2 tablespoons of olive oil and 2 tablespoons of brown sugar. Massage the mix on your feet thoroughly and leave for 15 minutes, then rinse off and pat dry. This mixture scrubs and moisturizes your feet and helps in eliminating the dryness.
Strengthen Nails – There are tons of nail hardeners on the shelves at your local drugstore, but you can get the same results — and naturally — using olive oil and lemon juice. The solution will not only condition weak and brittle nails, but it will also whiten yellowing nails.
Lighten Old Acne Scars – Take a cotton ball and soak it with a little freshly squeezed lemon juice, and rub it all over your face. The lemon juice when applied daily will gradually help to lightens up the scars as it works as a chemical peel.