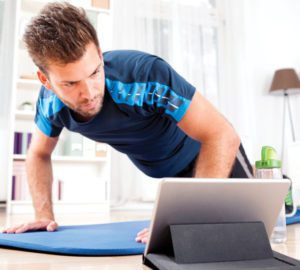 Exercise is critical for overall health, but if you are exercising in bad form, meaning your posture is poor, you extend your stomach or your neck is protruding, you can actually do your physical body much more harm than good. For those that try to work out on their own or watch the plethora of some "not-so-skilled" YouTube Influencers, beware that you might be gearing yourself up for major injury.
At Pure South Tampa, their expert, certified, fitness professionals use multiple modalities to keep you safe and in peak form, and there are 6 basic cues that they stand by as well. These are:
1. Your head position must be in proper alignment to make sure that the head and neck is back against the backline, reaching towards the ceiling, not jutting forward or in misalignment.
2. Shoulders must be down and back as if a drop of water could slide down your shoulder, straight down the center of your spine.
3. Abs must always be engaged when exercising and they also should be engaged throughout the day. The only time they should be totally relaxed is while you're eating and sleeping.
4. The rib cage must be down and not sticking out, which arches the back and spine in misalignment.
5. Glutes must be engaged.
6. The final cue is to keep yourself grounded to the floor at all times, whether it is through the hands or feet depending on exercise. Even with ballistic movements or jumping, you still want to have the proper weight and return to the feet with bent legs (not locked) to prevent injury.
Pure South Tampa's philosophy on fitness and their dedication to whole-body-wellness is the key to their client's satisfaction. Here, clients can benefit from a multifactorial program that can be tailored to their specific needs. What also sets Pure South Tampa's circuit training apart from the rest is that the classes are very limited to allow for a 'private training' experience and to avoid the overwhelming feeling of an overcrowded gym. There are also private one on one coaching classes available as well. It's not just about training; it's also about nutritional counseling, building a strong, trustworthy relationship with dedicated professionals to hold you accountable and to keep you motivated even through the tough, tempting times.
Coco Dunham, Pure South Tampa's Fitness Professional
Coco began her career in fitness as a result of being injured at age 23. As part of her recovery, she hired an ACE certified personal trainer, which ignited her interest in the human body and movement. After meeting her husband and moving to Pittsburgh, Coco established her own successful personal training business in 1998. She continued building her business until she and her family moved to Tampa in 2014. Upon moving to Tampa, Coco decided to focus on expanding her knowledge-base with additional certifications and also take a few years to raise their son. She is excited to share her experience and increased knowledge with clients in her new base at Pure South Tampa. Her core belief is that people should always put their own physical wellbeing on their to-do-list, perhaps, even first.
Join Pure South Tampa Classes Today!
The first 30 days of unlimited classes is $99.00.
Download the free App, Pure South Tampa to see and schedule classes.
Pure South Tampa
3311 West Gandy Blvd., Tampa, FL 33611
813-304-1709