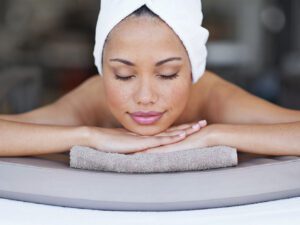 RevitalIV Tampa is now open as the premier luxury health center in the Tampa Bay area, bringing health and wellness reimagined to the community.
RevitalIV Tampa offers state-of-the-art IV Therapy, Fitness and Recovery services. Their Recovery services are centered around personalized Massage Therapy to help the body recover in the most beneficial way. Their Licensed Massage Therapists combine active and passive techniques to maximize results in a minimal amount of time.
The signature Swedish Massage is a great introduction for newcomers into Massage Therapy. This massage technique involves long, fluid strokes of the muscles and tissues that vary from light, to medium, to firm. As one of the most relaxing styles of massage, it allows the therapist to adjust the pressure according to your sensitivity and preference.
For those looking for a more intense form of relief, the Deep Tissue Massage capitalizes on slow, deep guided strokes that reach below the superficial muscles to relieve severe tension. The focus on these deep layers of tissue and fascia is to improve circulation, range of motion and to ease inflammation.
Any knots or problem areas on the body can be addressed with Trigger Point technique, which allows the concentration of pressure on sensitive areas to prevent future cycles of pain and spasms in certain areas. This type of therapy can improve posture, improve flexibility and ease muscular tension.
If you are unsure about commiting to a 60 minute session, RevitalIV Tampa offers 30 minute sessions to see if Massage Therapy is the best option for you, and for the therapist to learn more about your areas of concern and targeted recovery. All massage appointments allow for a personalized music choice for the best relaxation, natural and preservative free lotions, and aromatherapy for an all-encompassing experience.
RevitalIV Tampa is now open as Tampa's boutique wellness center. Their outlook on health approaches wellness from the inside out with IV Therapy, Fitness and Recovery. Their Massage Therapy memberships include a 60 minute massage monthly, along with 10% off all other products and services in store.
For more information and to book an appointment, contact (813) 397-1547 or info@revitalivtampa.com.
RevitalIV Tampa
813-397-1547
www.revitalivtampa.com
19040 Bruce B Downs Blvd.
Tampa, FL 33647