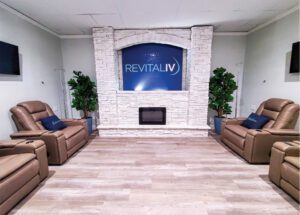 RevitalIV Tampa is now open as the premier luxury health and wellness center in New Tampa, providing health and wellness, reimagined, to the community.
RevitalIV Tampa showcased their state-of-the-art IV Therapy, Fitness and Recovery services at their Grand Opening this past Saturday. Their IV Therapy formulas are unique to the individual's needs and are customizable with a variety of vitamins and minerals. With their team of specially trained nurses, they can find the best solution to aid in athletic performance, nutrient deficiencies, weight loss and boosting energy levels. All these treatments are administered by experienced, board-certified physicians and Registered Nurses, ensuring both safety and comfort.
IV Therapy is the fastest way to deliver nutrients to the body, as it bypasses the digestive system and goes straight into the bloodstream. When you consume vitamins and minerals orally, the acids within your stomach will break most of them down, leaving your body with less nutrients to use.
RevitalIV Tampa's treatments are based on nutrient profiles that best suit your goals and health concerns. If you are looking for immunity support during this cold and flu season, look no further than the Recharge High Dose Vitamin C Treatment and the Resist Antiviral Treatment. These formulas are packed with Vitamin C, Zinc and a cold fighting blend that gives your body an extra layer of protection.
Along with immunity, IV Therapy can be beneficial in helping prevent and reverse signs of aging, such as dementia and memory loss when infused with NAD+ (nicotinamide adenine dinucleotide) which promotes cellular healing and regeneration. This treatment targets genes that promote aging, inflammation, fat synthesis and storage, and blood sugar management issues.
Entering the New Year, if you are looking to shed a few extra pounds or burn some fat, their Reduce weight loss treatment can help fast-track that process in a healthy and productive way. By getting a Reduce IV, your fat stores are mobilized and moved to the front of your energy reserves to be burnt first as you work out. Reduce contains Taurine and B Vitamins for energy, and L-Carnitine and M.I.C. for fat burning to give your body an effective and safe metabolic boost. For the fitness enthusiast, their Recalibrate treatment containing B Vitamins, Magnesium and Vitamin C helps ease muscle fatigue, restore electrolytes and even build immunity if working out in a busy gym.
The Florida sun can take a toll on the skin, which is why the Rejuvenate treatment is perfect for reducing dark marks, age spots and hyperpigmentation. The Glutathione and Vitamin C work together to create a maximum benefit for your skin by getting rid of free radicals and negative effects of oxidative stress. In addition to their categorized IV formulas, you are also able to add in vitamins and minerals at your request. This includes boosters like B-12 (also available in a shot), Glutathione, L Carnitine, Alpha Lipoic Acid and more.
Relax during your treatment in their private IV Therapy room, with a soothing waterfall, and adjustable lighting. Your 45-minute treatment will be administered in brand new leather recliners with a phone charging and Bluetooth capabilities, blankets and pillows (washed and sanitized before and after each use).
RevitalIV Tampa is now open as Tampa's premier luxury wellness center. Their outlook on health approaches wellness from the inside out, with IV Therapy, Massage Therapy and Personal Coaching.
For more information and to book an appointment, contact (813) 397-1547 or info@revitalivtampa.com
RevitalIV Tampa
813-397-1547
www.revitalivtampa.com
19040 Bruce B Downs Blvd.
Tampa, FL 33647