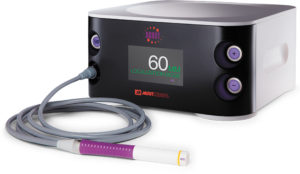 For decades, wire localization has been the preferred method for radiologists to mark a non-palpable tumor identified on a mammogram and/or breast ultrasound. In this procedure, wire markers are used to guide a surgeon to the tumor so they may perform breast-conserving therapy (BCT) such as a lumpectomy to remove a tumor while preserving healthy breast tissue, instead of removing the entire breast (mastectomy). Long-term data suggest that in eligible women, BCT coupled with appropriate follow-up treatment is as effective as mastectomy, with less physical and emotional trauma. Understandably, nearly 65% of women elect to have BCT over mastectomy.
While wire localization has provided a dramatic improvement in breast-conserving therapy, it presents certain challenges for both patients and doctors. Foremost is coordination of care, because the surgical procedure must be performed the same day as the wire is placed, and doctors' busy schedules can create delays, something no one wants to encounter. And there's the matter of having a wire protruding through the skin of your chest while you wait for surgery, which may be several hours. Obviously this can be uncomfortable and unnerving. And during the hours in between placement and surgery, the wire can be damaged or can migrate, decreasing its effectiveness for the surgeon. In some cases, the wire entry site doesn't coincide with the best surgical incision site, creating a less-than-ideal cosmetic outcome, and if the wire is disturbed during surgery it can mean guidance to the tumor is lost. In a small number of cases, the inadequacies of wire localization can result in insufficient tissue removal, requiring subsequent surgeries.
Now, there's the SCOUT® radar localization system. In use since 2015 in more than 90,000 procedures, FDA-cleared SCOUT enables your RAO radiologist to place a special reflector in a tumor, biopsy or lymph node site instead of a wire. About the size of a grain of rice, this tiny implant is not only infinitely more comfortable and less scary than a protruding wire, it's safer and more accurate because it eliminates the risk of wire damage or displacement and secures pinpoint tumor location. SCOUT is also far more convenient because it doesn't demand same-day surgery, enabling your procedure to be scheduled as soon as your surgeon is available, even first-thing in the morning, an option unavailable with wire localization. During a lumpectomy or surgical biopsy, your surgeon simply scans the area with a specialized SCOUT guide, which uses 100% radiation-free infrared light and radar signals to locate the reflector, creating +/-1mm localization for outstanding surgical accuracy, and an improved chance of a more aesthetic outcome. SCOUT offers superior results and faster surgical scheduling for patients and surgeons, making it a win-win for everyone. All SCOUT surgeries are performed at AdventHealth, a trusted partner in quality healthcare.
The board-certified radiologists of RAO's Women's Imaging Center specialize in breast imaging and are highly trained in precise SCOUT placement. And your RAO radiologist will consult directly with your referring healthcare provider to help ensure that you receive the highest level of care.
If your breast imaging showed something that requires surgical investigation, talk to your clinician about whether SCOUT might be right for you.
Radiology Associates of Ocala
(352) 671-4300
www.RAOcala.com