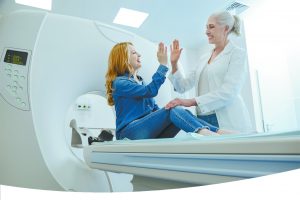 When your doctor prescribes an imaging test to discover the presence, cause and/or location of disease or injury somewhere within your body, or you elect to have a voluntary screening scan such as a mammogram or an interventional service like varicose vein treatment, it can be challenging to know which radiology practice to choose.
Why RAO? There are a myriad of reasons, all falling under the umbrella of our commitment to putting our patients' healthcare needs and emotional concerns above all else. Here are a few things that have made RAO a local leader in diagnostic and interventional services for more than 40 years:
Advanced Technologies – RAO's four affiliated offices, Medical Imaging Center, Medical Imaging Center at Windsor Oaks, Women's Imaging Center and TimberRidge Imaging Center, offer a full range of technologically advanced imaging services from bone scans, 3D mammography™ exams and ultrasound to nuclear medicine, MRI and PET/CT. We also perform safe, minimally invasive vascular procedures at our Center for Vascular Health, making us a full-service provider.
Longevity in Practice – Since 1973, the doctors and communities of Marion County have trusted locally owned and operated RAO for state-of-the-
art medical imaging services. Because our practice and its people, from doctors to technologists to support staff, all live and work locally, we are more than just healthcare providers – we are your neighbors and members of the community we cherish.
And when you have questions, we have caring staff available close to home. When it comes to your health, that can make all the difference.
Exceptionally Trained Personnel – Our team of 19 radiologists is composed of licensed physicians with sub-specialty fellowship training in their areas of practice and Board Certified by the American Board of Radiology. Our doctors are the exclusive providers at the area's most respected and trusted hospitals: Munroe Regional Medical Center, Ocala Regional Medical Center and West Marion Community Hospital. RAO's team of nationally-certified radiologic technologists are expertly trained in the advanced equipment we use and the specific diagnostic procedures they perform, as well as the most stringent safety protocols.
Commitment to Quality – RAO and its doctors continually investigate the latest in diagnostic services, and employ those that prove to be the safest and most effective. We work directly with your doctor to determine the best modality for your individual case, and, when warranted, help your doctor devise the most effective treatment plan. Our practice maintains continuing accreditation in key diagnostic services from the American College of Radiology, so you can feel confident about the regulation and oversight of your services.
RAO's Women's Imaging Center and TimberRidge Imaging Center have been designated Breast Imaging Centers of Excellence by the American College of Radiology, an honor bestowed to very few Florida healthcare providers, so you can trust you're getting the best possible care.
When you need a radiologic scan or service, talk to your doctor about RAO. We are committed to your health, comfort and satisfaction.