By Superior Residences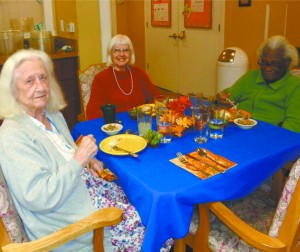 When it comes to a healthy diet, seniors can be hard to please. As we age, even favorite foods may seem to have changed in taste or lost their flavor altogether. Healthier foods such as fruits and vegetables may be difficult to chew or even cause stomach issues.
"Without guidance, seniors can fall into a rut of eating an unhealthy, limited menu," said Gary Crews, Executive Director at Superior Residences of Cala Hills in Ocala, which provides assisted living and memory care. "We also see residents who have gotten into the habit of adding too much salt or sugar to their food. "
To keep seniors on a healthy track, the dietitians at Superior Residences provide a well-balanced variety of healthy foods thoughtfully prepared for easy eating and digestion, Crews said. To avoid high salt and sugar intake, spices are used to add flavor and zing. Excessive sodium is a risk factor for high blood pressure and heart disease, while sugar can aggravate diabetes and weight issues for seniors.
Seniors also need to be extra vigilant about staying hydrated. Aging can depress the sense of thirst. Dehydration has been associated with confusion, falling and constipation, and leads to many preventable visits to the ER and hospitalizations each year.
Frequently offer seniors something to drink, even if they haven't said they are thirsty. If they aren't in the mood for a drink, try a juice smoothie or a frozen juice treat. Offer soup or broth as a snack or before meals.
The USDA recommends this daily intake for
seniors to maintain good health:
• Fruits: 1-1/2 to 2-1/2 cups
• Vegetables: 2 to 3-1/2 cups
• Grains: 5 to 10 ounces
• Protein: 5 to 7 ounces – Meat, fish, poultry, eggs, tofu, beans, nuts or peanut butter.
• Dairy: 3 cups –1 cup of milk or 1 cup of yogurt, 1-1/2 to 2 ounces of cheese or 2 cups of cottage cheese.
• Oils: 5 to 8 teaspoons
• Solid fats and added sugars (SoFAS): Keep the amount of SoFAS small.
Beyond the right amount of calories for their activity level and meeting requirements for vitamins and minerals, seniors need to be aware of how their diet can impact medical conditions and how foods can interact with their medications. Talk to a physician or registered dietician about foods your senior loved one should be eating or avoiding to stay healthy.
Call today to talk with a Superior Residences team member about all the options available to you at 352-861-2887.