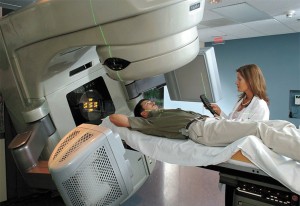 With the advent of sophisticated technologies, the fight against prostate cancer has become highly advanced with its technological capabilities and precise delivery of radiation to tumor sites. However, even the most advanced technologies are rendered obsolete if your prostate cancer is not detected early. September is "National Prostate Cancer Awareness Month" and experts at InterCommunity Cancer Centers and Institute (ICCC/ICCI) are educating men about the latest prostate screening guidelines and about how radiation therapies are redefining the way this disease is now treated.
The American Cancer Society estimates that in 2013, 238,590 men will be diagnosed with prostate cancer and 29,720 will lose their lives to it. Prostate cancer is the second leading cause of cancer death in American men, behind only lung cancer. Prostate cancer can be a serious disease, but most men diagnosed with prostate cancer do not die from it. In fact, more than 2.5 million men in the United States who have been diagnosed with prostate cancer at some point are still alive today.
Prostate cancer is often diagnosed at such an early stage that there are no outward symptoms of disease, which is why many patients are initially alerted to it after having a routine physical or examination for an unrelated concern. Diagnosis usually occurs following an initial screening through a digital rectal examination (DRE) and a Prostate Specific Antigen (PSA) blood test. An elevated PSA level in the blood stream may indicate prostate cancer, but not always. Therefore, if either the DRE or PSA is abnormal, additional tests including ultrasound or urinalysis are conducted before a prostate biopsy is performed.
The information about if, when and how old men should be when they get screened can be confusing and has recently been a focus of national debate. New guidelines recommended by the American Urological Association (AUA), which are more in line with the ACS' recommendations, say men 55 to 69 with average risk of getting prostate cancer should discuss the pros and cons of screening with their doctors. If they choose to undergo screening, they should do so every two years instead of annually. According to the AUA, routine screening is no longer recommended for men of average risk who are younger than 55 or older than 70. Of course, every man is different and age shouldn't be his only consideration. We strongly advise men to talk about risk factors, family history, and personal health with their doctor to determine the best prostate health recommendations for them.
And while the new screening guidelines are still being scrutinized by medical professionals and patients alike, ICCC/ICCI is reminding patients that early detection is the one thing that we can all agree on as being a key factor to significantly improving treatment outcomes for those diagnosed. "For men over 40 and who have a family history of prostate cancer, they should initiate a conversation with their physician so that they can create a plan of attack about when and how often they should be screened," said Hal M. Jacobson, M.D., medical director of ICCC/ICCI.
FIGHTING PROSTATE CANCER ONE
"EXTERNAL BEAM" AT A TIME
Alone or in combination with other treatment modalities, external beam radiation therapy is used to treat more than half of the men diagnosed with prostate cancer. The most state-of-the-art external beam radiation therapy techniques utilizing Intensity-Modulated Radiation Therapy (IMRT), Image-Guided Radiation Therapy (IGRT) and the Calypso® 4D Localization System™ are available right here in your own backyard at ICCC.
IMRT is arguably the most widely used radiation therapy for prostate cancer. It provides highly sophisticated radiotherapy utilizing computer-controlled x-ray linear accelerators to deliver radiation doses with high precision. IMRT is used in combination with IGRT which localizes the treatment tumor site daily before each treatment for pinpoint accuracy and effectiveness.
The Calypso, or GPS for the Body®, is a form of IGRT that allows precision-guided radiation therapy delivery to the prostate with continuous, prostate-motion detection and monitoring. Essentially, Calypso tells the physician where the tumor location is at all times during daily radiation treatments.
Because of the precision involved with IMRT, IGRT, and now Calypso, ICCC radiation oncologists can use higher doses of radiation to more effectively treat the cancer. These external radiation therapy treatments are performed on an outpatient basis and provides excellent survival rates equivalent to radical surgery for prostate cancer patients. It is a non-invasive and relatively painless treatment that helps maintain a patient's high quality of life during the treatment process.
"The combination of IGRT and Calypso System deliver higher doses of radiation with fewer complications and side effects than patients typically experience when treated with conventional radiation therapy," said Alison Calkins, M.D., radiation oncologist at ICCC. "With the multi-disciplinary approach to treating malignancies today, our new technology is helping to provide optimal results for the patient."
ICCC also offers a variety of other treatments for prostate cancer including Low Dose Radiation seed implants and High Dose Radiation Brachytherapy. To learn more, please visit www.ICCCVantage.com.
THE EXPERIENCE OF INTERCOMMUNITY CANCER CENTERS
ICCC has 25 years of cancer-fighting experience having treated over 10,000 patients. They are dedicated to empowering patients to have the confidence they need to change their lives. Radiation Oncologists Drs. Hal Jacobson, Herman Flink, Maureen Holasek and Alison Calkins bring exceptional expertise in treating breast, lung, prostate, gynecologic, skin and other cancers.
As part of a larger, nation-wide oncology group of physicians and specialists under Vantage Oncology, the oncologists at ICCC have access to aggregated clinical information and best practices from the treatment of more than 1,000 patients per day, enabling them to develop highly-effective and peer-collaborated treatments. This gives many of the centers that work with Vantage, including ICCC, the ability to offer university-quality treatment services in smaller and more rural areas. It gives local communities exceptional services closer to home and in a non-hospital setting. To learn more, please visit www.ICCCVantage.com.
ABOUT VANTAGE ONCOLOGY
Vantage Oncology offers a complete development, implementation and management solution for radiation oncology practices. It provides ownership opportunities that empower physicians to maintain control of their practice while leveraging the strength of the company's network and clinical resources. A multi-disciplinary team is committed to continuously raising the standards of cancer care. For more information, please visit www.VantageOncology.com.