InterCommunity Cancer Centers and Institute Spotlights Risk Factors and High-Tech Radiation Treatments for Prostate Cancer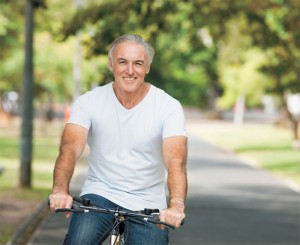 With the advent of sophisticated technologies, the fight against prostate cancer has become highly advanced with its technological capabilities and precise delivery of radiation to tumor sites. And with September being "National Prostate Cancer Awareness Month," experts at InterCommunity Cancer Centers and Institute (ICCC/ICCI) are encouraging patients to remain vigilant about their annual prostate exams as well as educating them about how radiation therapies are redefining the way prostate cancer is now treated.
The American Cancer Society estimates that in 2012, 241,740 men will be diagnosed with prostate cancer and 28,170 will lose their lives to it. Prostate cancer is the second leading cause of cancer death in American men, behind only lung cancer. Prostate cancer can be a serious disease, but most men diagnosed with prostate cancer do not die from it. In fact, more than 2.5 million men in the United States who have been diagnosed with prostate cancer at some point are still alive today.
The ACS' website identifies numerous risk factors, signs and symptoms and important prevention tips regarding prostate cancer and they include the following:
WHAT ARE THE RISK FACTORS FOR PROSTATE CANCER?
Risk factors for prostate cancer include:
Age: The chance of having prostate cancer rises rapidly after age 50. Almost 2 out of 3 prostate cancers are found in men over the age of 65.
Race and Ethnicity: Prostate cancer occurs more often in African-American men than in men of other races, and are more than twice as likely to die of prostate cancer as white men.
Family History: Having a father or brother with prostate cancer more than doubles a man's risk of developing this disease.
Genes: Scientists have found several inherited gene changes that seem to raise prostate cancer and some common gene variations are linked to a higher risk of the disease.
Diet: Men who eat a lot of red meat or high-fat dairy products appear to have a slightly higher chance of getting prostate cancer.
Obesity: Some studies have found that obese men may be at greater risk for having more advanced prostate cancer and of dying from prostate cancer.
While the numbers and risk factors are alarming, ICCC/ICCI is reminding patients that early detection can significantly improve treatment outcomes for those diagnosed. "We continue to make tremendous strides in the detection and treatment of prostate cancer. However, these advancements are for naught if we can't convince men to visit their doctor to receive an annual screening," said Hal M. Jacobson, M.D., Medical Director of ICCC/ICCI.
FIGHTING PROSTATE CANCER ONE "EXTERNAL BEAM" AT A TIME
Alone or in combination with other treatment modalities, external beam radiation therapy is used to treat more than half of the men diagnosed with prostate cancer. The most state-of-the-art external beam radiation therapy techniques utilizing Intensity-Modulated Radiation Therapy (IMRT), Image-Guided Radiation Therapy (IGRT) and the Calypso® 4D Localization System™ are available right here in your own backyard at ICCC.
IMRT is arguably the most widely used radiation therapy for prostate cancer. It provides highly sophisticated radiotherapy utilizing computer-controlled x-ray linear accelerators to deliver radiation doses with high precision. IMRT is used in combination with IGRT which localizes the treatment tumor site daily before each treatment for pinpoint accuracy and effectiveness.
The Calypso, or GPS for the Body®, is a form of IGRT that allows precision-guided radiation therapy delivery to the prostate with continuous, prostate-motion detection and monitoring. Essentially, Calypso tells the physician where the tumor location is at all times during daily radiation treatments.
Because of the precision involved with IMRT, IGRT, and now Calypso, ICCC radiation oncologists can use higher doses of radiation to more effectively treat the cancer. These external radiation therapy treatments are performed on an outpatient basis and provides excellent survival rates equivalent to radical surgery for prostate cancer patients. It is a non-invasive and relatively painless treatment that helps maintain a patient's high quality of life during the treatment process.
"New technologies such as the Calypso System deliver higher doses of radiation with fewer complications and side effects than patients typically experience when treated with conventional radiation therapy," said Bobby Harrison, M.D., radiation oncologist at ICCC. "With the multi-disciplinary approach to treating malignancies today, our new technology is helping to provide optimal results for the patient."
ICCC also offers a variety of other treatments for prostate cancer including Low Dose Radiation seed implants and High Dose Radiation Brachytherapy. To learn more, please visit www.ICCCVantage.com.
THE EXPERIENCE OF INTERCOMMUNITY CANCER CENTERS AND INSTITUTE
ICCC has 25 years of cancer-fighting experience having treated over 10,000 patients. They are dedicated to empowering patients to have the confidence they need to change their lives. Radiation Oncologists Drs. Hal Jacobson, Herman Flink, Bobby Harrison, and Maureen Holasek bring exceptional expertise in treating breast, lung, prostate, gynecologic, skin and other cancers.
As part of a larger, nation-wide oncology group of physicians and specialists under Vantage Oncology, the oncologists at ICCC have access to aggregated clinical information and best practices from the treatment of more than 1,000 patients per day, giving ICCC the ability to offer "Ivy League" and university-quality treatment services in smaller and more rural areas.
ABOUT VANTAGE ONCOLOGY
Vantage Oncology offers a complete development, implementation and management solution for radiation oncology practices. It provides ownership opportunities that empower physicians to maintain control of their practice while leveraging the strength of the company's network and clinical resources. A multi-disciplinary team is committed to continuously raising the standards of cancer care. For more information, please visit www.VantageOncology.com.