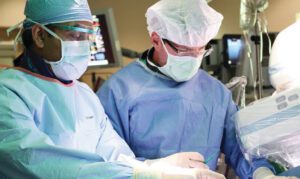 St. Joseph's Hospital was named as one of the nation's top performing hospitals by Fortune and IBM® Watson Health® last year. The annual Fortune/IBM 50 Top Cardiovascular Hospitals study spotlights leading short-term, acute care, non-federal US hospitals that treat a broad spectrum of cardiology patients. The study is designed to identify impartial, actionable, and attainable benchmarks for hospital and clinical leaders as they work to raise their own organizations' standards of performance in cardiac care.
"The fact that we are the only hospital in Hillsborough County to receive this award, and that this is our third time on this list, underscores how we strive to provide extraordinary care for our community," said hospital President Kimberly Guy. "St. Joseph's Hospital's Heart Institute is one of the most advanced and comprehensive centers for cardiovascular care in Florida. We combine our expertise with compassionate care and are at the forefront of the latest research and new techniques in heart care."
The 2020 study included 980 U.S. hospitals with cardiovascular service lines. Based on comparisons between the study winners and a peer group of similar hospitals in the study, the winners delivered better outcomes while operating more efficiently and at a lower cost. The study uses independent and objective research to analyze cardiovascular hospital performance in clinical and operational areas addressing inpatient and 30-day mortality, patient complications, 30-day readmission, average length of stay, 30-day episode-of-care payment, and adjusted cost per case, for acute myocardial infarction (AMI), coronary artery bypass graft (CABG), percutaneous coronary intervention (PCI) and heart failure (HF) patients. The annual report highlights the top-performing cardiovascular hospitals in the U.S. based on a balanced scorecard of publicly available clinical, operational, and patient satisfaction metrics and data.
Extrapolating the results of this year's study, if all Medicare inpatients received the same level of care as those treated in the award-winning facilities:
• More than 7,000 additional lives could be saved
• More than 5,000 heart patients could be complication-free
• More than $1.6 billion in inpatient costs could be saved
"With more than 120 million American adults living with some form of cardiovascular disease, cardiovascular services are among the most critical in healthcare," said Ekta Punwani, 100 Top Hospitals Program Lead, IBM Watson Health. "Hospitals are constantly working to improve clinical and operational performance, and the exceptional organizations on this list demonstrate the standard for top performing cardiac care. Their benchmarks serve as a real-world checkpoint for cardiovascular care across the U.S."
Earlier in 2020, St. Joseph's Hospital was named among the nation's 100 Top Hospitals by IBM Watson Health® for the fourth time. In addition, BayCare Health System, which includes St. Joseph's Hospital as one of its 15 hospitals, was recognized by IBM Watson Health as one of the top 20 percent large health systems in the country. This is the second year in a row that BayCare has been recognized with this honor.
St. Joseph's Hospital's Heart Institute is a leading center for diagnosing and treating adult and pediatric patients with heart conditions.
"We are proud to recognize the collaborative care of team members and specialized providers, cardiologists, interventional cardiologists, cardiothoracic surgeons, electrophysiologists and Advanced Heart Failure specialists in caring for our most complex patients," said Nanette Wilcox, director of the Heart Institute.
St. Joseph's Hospital recently received the Mission: Lifeline® STEMI Receiving Center – Gold Plus Award from the American Heart Association (STEMI, acute ST-elevation myocardial infarction, is more commonly known as a heart attack). In addition, St. Joseph's Hospital has earned a distinguished three-star rating from The Society of Thoracic Surgeons (STS) for its patient care and outcomes in isolated coronary artery bypass grafting (CABG) procedures. The three-star rating, which denotes the highest category of quality, places St. Joseph's Hospital among the elite for heart bypass surgery in the United States and Canada. Our Advanced Center for Atrial Fibrillation (Afib) uses the latest catheter-based treatments and minimally invasive surgical approaches, leading to long-lasting, more effective treatment.
The 50 Top Cardiovascular Hospitals were announced in Fortune. For more information, visit https://www.ibm.com/watson-health/services/
100-top-hospitals.