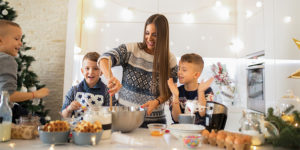 Most children love counting and doing simple addition when they're young, but it's not uncommon for kids to struggle with math when they get into the third and fourth grade and beyond. Many adults, if we're honest, struggled with math as well, but it's critical not to tell your children that you were terrible at math! This will only set the standard that it's acceptable to give up or to quit. Suggesting to your kids and teens that math problems might be challenging is a better choice of words. Taking the time to work with them to solve the problem together will allow them to feel connected to the joint effort.
Teaching kids math in the kitchen is a fun way to keep them motivated over the winter break. And the best part is, they will just think its part of the process as opposed to being tested and stressed. No matter what ages your kids are, they can all partake in various stages of math skills and problem-solving while preparing to make cookies, cakes, pies or entrees.
It all begins with heading to the grocery store. You can play a game on the way by adding the numbers on the license plates in front of you, and you can get pretty in-depth with this challenge if you want. For example, you could join in and add the license plates of two or three vehicles then subtract or multiply those numbers and so on.
When you arrive at the store, you could ask your child to help you remember the number of items you need. For example, I need flour, sugar, eggs, oil, butter, cocoa, vanilla extract, and a cookie sheet. How many items is that? Then you invite your child to help you remember those eight items. Once you get in the store, asking your child questions like, how many boxes of brownie mix and how many rolls of cookie dough can we buy with $20.00. You get the idea.
In the kitchen, allowing your child to measure out flour, oil, and cutting tablespoons of butter will help them understand fractions and measurements. Preheating the oven will help them calculate time.
When the cookies or baked goods are cooling, you can have fun by cutting them into fractions and allowing your child to help cut and eat the portions. For example, if you cut a cookie into eight pieces, you can help them understand how to add and subtract fractions in eights or fourths and so on.
If you're having a party or taking your treats to an event, you can ask your child how many brownies you will need for sixteen people if they all get two. We can't forget the turkey. If you need to thaw your frozen bird, you can have your kids help you determine the time required to defrost the turkey in the refrigerator. You can ask, "How long will it take a 14.8-pound frozen turkey to thaw if it requires 24 hours per four pounds?" All of these little math skills that we use all the time in the kitchen can really help to get kids involved, engaged and excited to learn new things and to put their brains in problem-solving mode. It can't hurt us, adults, either. It's a good reminder to use our problem-solving skills and be thankful that even though math can be complicated at times, we need it and we use it every single day.
KnowledgePoints' services include tutoring in reading, math, and writing, homework help, a study skills program, and SAT/ACT preparation to name a few. Not every child is the same, nor should their tutoring be a one size fits all approach. With affordable tutoring and proven results, contact KnowledgePoints today to help your child succeed in school and in life with confidence.
KnowledgePoints has two convenient locations in Pasco County to serve you!
KnowledgePoints Trinity
10720 State Road 54 Suite 110
Trinity, FL 34655
727-484-6178
www.Trinity.KnowledgePoints.com
KnowledgePoints Land O' Lakes
2201 Collier Pkwy
Land O' Lakes, FL 34639
813-909-0781
www.LandoLakes.KnowledgePoints.com
Hours of Operation
Mon – Thurs: 11:30am – 7:30pm
Friday: Closed
Saturday: 9am – 1pm
Landolakes.knowledgepoints.com
*They accept the Gardiner Scholarship and the new Step Up for Students Reading Scholarship!