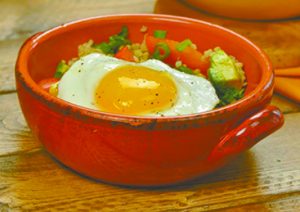 Liven up the breakfast routine with this Southwestern quinoa bowl. Quinoa contains a hefty amount of protein, making this a great morning option. Add other items to turn this into your own creation—cucumber, radishes, black beans, and more. The eggs can also be cooked however you prefer—over-easy, poached, or even scrambled.
Ingredients:
– 1/4 cup raw quinoa
– 1/2 avocado, pitted and diced
– 2 medium tomatoes, chopped (about 2 cups)
– 1 cup no-salt-added, frozen corn (thawed)
– 1/4 cup chopped green onions
– 1/2 cup cilantro (optional)
– 4 eggs
– 1/8 teaspoon salt
– 1/4 teaspoon ground black pepper
– hot sauce (optional)
Directions:
• Cook quinoa according to the package directions. Remove from heat and let sit.
• Prepare the remaining ingredients: pit and dice the avocado half; chop the tomatoes; rinse the canned corn; chop the scallions, and chop the cilantro.
• Divide quinoa between 4 bowls. Arrange the avocado, tomatoes, corn, scallions, and (optional) cilantro between each bowl.
• Meanwhile, coat a large nonstick skillet with cooking spray and warm over medium-high heat. Crack each egg into the skillet and season with salt and pepper. Cover with a lid and cook until egg whites are set but yolk is still runny, about 3 to 4 minutes. Use a spatula to carefully transfer each sunny-side-up egg into each bowl. Garnish with hot sauce and serve.
Cooking Tip: For a quicker breakfast to put together on a weekday morning, substitute hard-boiled eggs that have been made in advance.
Keep it Healthy: The sodium content of hot sauce varies across the board so make sure to check the ingredient label before buying.
Tip: Cooked quinoa stores well in the freezer. Make a big batch and freeze in Ziploc® bags. Add a few teaspoons of water and warm in the microwave. Or, let the frozen quinoa defrost in the refrigerator for a day and stir into a cold salad.
Recipe copyright © 2016 American Heart Association. This recipe is brought to you by the American Heart Association's Simple Cooking with Heart ® Program. For more simple, quick and affordable recipes, visit heart.org/simplecooking.