Innovative Therapies Group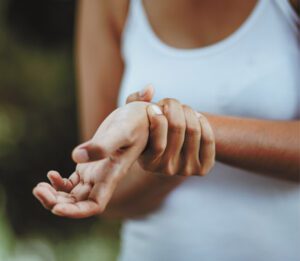 Because we have the most beautiful weather all year long, in our sunshine state, older individuals are golfing, playing tennis, pickleball, kayaking, swimming, and the list goes on and on; but with all of this healthy activity, adults are more susceptible to injury and wear and tear.
Tennis Elbow: Tendonitis (Tennis, Golf, etc.)
The same sentiment holds true with elbow injuries. Elbow tendonitis results in a ligament laxity component that if unaddressed, causes the issue to become chronic. The tendon will continue to become inflamed during sports and other daily activities because the muscles are overcompensating for ligament laxity. Instead of surgery, there is another treatment option.
Pickleball Injuries
Many sports-related injuries are putting players in quite the predicament. Oddly enough, most of these injuries are taking place in the wrist and hands. According to the USAPA (USA Pickleball Association), 70% of the participants playing pickleball are over the age of 60. That's a lot of seniors out there enjoying this exciting sport, but that also means that there are more injuries needing medical attention. The same holds true for many other sports and outdoor activities. Ballistic movements or quick side to side, lateral transitioning, are very often what lead to these injuries.
The most common of the two types of injuries are traumatic, so for all the exercise fanatics, weekend warriors or accident-prone individuals, the RICE method, along with NSAID's (aspirin or ibuprofen) should be your first line of defense if you've injured yourself. But along with this standard of care, any time you or a loved one experiences injury; you should consult a physician for a medical examination immediately to evaluate how severe your injury might be. Additionally, Occupational/Hand therapy should also be a first-line treatment.
Occupational/Hand Therapy for Sports Injuries
With the right method of hand therapy exercises and stretching, you can regain control of your active lifestyle within a short period of time.
Masking your pain with pain medications is not the answer. Getting to the root cause of your condition is the key to healing your body and living the life you deserve.
Occupational/Hand therapy is the leading way to relieve pain and discomfort at its core for many individuals. Therapeutic manual stretching and exercising provide real results in controlling pain for countless patients. The CDC (Centers for Disease Control and Prevention) also launched new guidelines recently, recommending the use of physical therapy for chronic pain.
Patient & Occupational Education is critical to alleviate further injury and to promote the most efficacious healing. Coupled with at-home exercise guidelines and self-help management to promote and maintain independent function and increase mobility, Innovative Therapies Group has got you covered.
Occupational/Hand therapy is used to help with numerous indications and conditions like retraining the body to improve stregth and so much more. There is no better way to alleviate pain, increase range-of-motion and live a more mobile higher quality of life than through physical and occupational hand therapy.
To find out more or to schedule your appointment, please contact Innovative Therapies Group today.
Innovative Therapies Group, Inc.
352-433-0091 | innovativetherapiesgroup.com