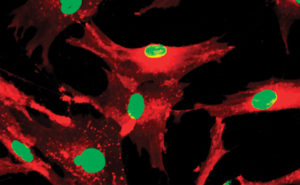 By now, we've all heard of stem cells, we know at least one person that has gotten the treatment for arthritis, back pain, a torn ACL or other painful disorders; and we know countless physicians are offering stem cell or PRP (Platelet Rich Plasma) therapy. But how do we know if it works, who is a qualified physician, and more importantly, which physician can actually get us REAL—LASTING—RESULTS?
Stem cell treatments for painful conditions offers the hope of avoiding narcotics, anti-inflammatory drugs, cortisone injections, and surgery. But, it requires great skill and knowledge to administer these procedures properly.
Over the past several years, stem cell and PRP therapy have soared in popularity as a highly sought-after treatment option, due to their natural and non-surgical alternative for many common orthopedic conditions. This has inspired numerous unqualified practitioners to jump on the bandwagon and offer inferior services that are ineffective, and in some ways, harmful to a patient's overall health.
Not all Stem Cell Treatments are the Same
Patients should be vigilant when exploring physicians. Because stem cell therapy does work and it can potentially regenerate soft tissue, countless medical offices are now offering it. Unfortunately, many of the practitioners are unqualified and misguided. Some of these injectors are doing it blindly, without image-guided ultrasound or X-ray, and with overall little knowledge. It should be noted that the use of one's own bone marrow derived stem cells, when properly used, is the only tissue source that is allowable for orthopedic stem cell procedures by the FDA.
Red flags (meaning you should run the other way) to be aware of:
• Use of birth tissue (amniotic, umbilical, or placental) "stem cells" – these products do not contain living stem cells. They should never be referred to as a stem cell procedure or be priced like a stem cell
procedure! The FDA has made this clear and independent labs have tested these products and confirmed this point. They may have some value but they definitely NOT stem cell procedures.
• IV injections of "stem cells". Many low skilled providers are claiming that the stem cells "know" where to go. There is no evidence of this. We believe that the stem cells need to be accurately placed into the damaged tissue under skilled image guided procedures.
• Use of fat stem cells. The FDA has made it clear that stem cells derived from fat tissue is in violation of their regulations. Stem cells that are actually derived this way are considered to be drugs that need to go through the same drug approval process as any other drug. Some providers are just ignoring this, and others have a different strategy. They may take the fat tissue and break it apart a little (called microfragmentation) and inject the clumps. This is referred to as a fat graft and in certain situations may be allowed and could be clinically beneficial. But, it is NOT a stem cell procedure and shouldn't be fraudulently advertised or promoted as such.
• Culture expanded (grown) stem cells. This is a considered a drug in the U.S and is not allowed. Nor is storing of stem cells!
• Stem cells to treat or cure a myriad of conditions such as Parkinson's, Multiple Sclerosis, Cancer, COPD, Heart Disease, Diabetes, Kidney Disease, etc. Although, in the future there may be use for stem cells in the treatment of these diseases, at this time, it should only be administered as part of clinical trial.
• Non-physician injectors. There are savvy marketing firms that have developed turn-key business model for chiropractors, encouraging and helping to hire a nurse practitioner or physician assistant to inject some type of birth tissue fake stem cell product and usually there is a MD or DO somewhere in the state who has agreed to sign-off on it.
The Regenexx Difference
Since 2005, Regenexx doctors were the first in the U.S. to administer a stem cell injection for an orthopedic issue and have since led the way in advancing this new field of Interventional Regenerative Orthopedics with a fervent commitment to researching and publishing the scientific and clinical data. Regenexx affiliated doctors are highly trained musculoskeletal experts who are skilled at precise image-
guided injections utilizing ultrasound and X-ray. This exclusive group of doctors has been hand-picked to be part of this network and then further trained in highly refined procedural and laboratory techniques and certified by the not-for-profit Interventional Orthopedic Foundation.
With Regenexx, all patients are tracked in the only national registry database of its kind, with more than 90,000 procedures having been performed to date. With this, safety and outcomes can be better analyzed and followed. For example, the largest safety research article of its kind and a recent landmark randomized clinical trial for knee arthritis have been published amongst many other papers.
Additionally, there are several on-going clinical trials and a certified research laboratory backing Regenexx and its proven results. No other stem cell organization offers this combination of successful persistent effort and publications.
The Regenexx procedure uses bone marrow stem cells (mesenchymal), which can provide 5 to 20 times the amount of stem cells obtained by any other available "bedside" centrifuge techniques. The stem cells are taken from the bone marrow, through a harvesting procedure. Additionally, other orthobiologic materials can be obtained from the patient to be used for injections such Platelet Rich Plasma (PRP) and Alpha-2-Macroglobulin (A2M).
But unlike other doctors dabbling in this field, Regenexx's laboratory techniques allow for individualized treatment plans with platelet counts ranging from 1 to 40 times concentrated as compared to the blood as well as the ability to keep or remove white blood cells or red blood cells. In a given procedure, there may be many different versions of the PRP used depending on the tissue type and ultimate goal.
In research by Regenexx, patients with knee osteoarthritis (OA) showed that 90 percent feel a significant improvement (on average 60-70% less pain and more function) with years of lasting results using Regenexx protocols, even with arthritis that would traditionally warrant a replacement. Many conditions can be successfully treated, ranging from tendon tears to ligament tears to arthritis to meniscus and labrum tears to avascular necrosis (death of bone) to degenerative disc disease and stenosis.
For patients suffering from chronic orthopedic pain of any kind, the first step to improving their quality of life is to talk to an experienced Regenexx physician who can discuss and provide accurate and realistic expectations regarding these new and exciting treatment options.
Regenexx
RegenTampaBay.com 
8600 Hidden River Parkway, Suite 700
Tampa, FL 33637
813-544-3123
Dr. James Leiber
James Leiber, DO, is the founder and medical director of Regenexx Tampa Bay. He is a former officer, physician, and educator in the Air Force, including personal physician to the vice president and president at the White House. He is triple board certified in Neuromusculoskeletal Medicine (AOBNMM), Pain Medicine (CAQPM), and Family Medicine (ABFM), as well registered in Musculoskeletal Sonography (RMSK).
Dr. Leiber specializes in Interventional Regenerative Orthopedics with years of experience and is honored to have been the first Regenexx Network Provider in Florida. In 2012, Dr. Leiber began offering the nation's most advanced non-surgical stem cell and platelet treatments (PRP) for injuries and arthritis under image guidance utilizing ultrasound and fluoroscopy (X-ray).
He is a published author, presenter, and is currently the program director for the Interventional Orthopedic Foundation.
He lives in Sarasota, Florida with his wife and teenage daughter. Dr Leiber travels regularly to Denver, to teach regenerative orthopedic techniques to fellow doctors, and to Grand Cayman, where he is also licensed to treat patients.
We understand the growing concern surrounding the Coronavirus (COVID-19) across the communities we serve. The health and safety of our patients, physicians, and staff is our top priority. Regenexx Tampa Bay has been actively preparing its offices, physicians, and employees to address these uncertainties and prevent the transmission of COVID-19. To schedule a Telehealth call with one of our physicians, please call us at 941-357-1773 in Sarasota and 813-544-3123 in Tampa. For Gold Coast Orthopedics in Aventura, FL, please call 786-855-4800.