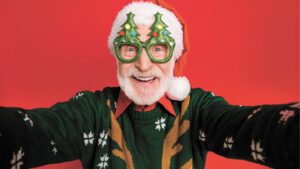 Being home for the holidays has always been a comfort and joy for many. We know every year the holiday experience is different, especially this year. There are many opportunities at Sumter Senior Living to make this holiday even more special.
"We are honored to provide a place that it is not just like home. It is home. We are providing a place that includes a supportive community with connections, friendship, and fun," said Sumter Senior Living Executive Director Kristin McClelland. "And that's exactly why so many are happy to be home for the holidays with us."
The Sumter Senior Living team strives to provide engaging wellness and life enrichment programs for each resident to enjoy together. The community includes Independent Living, Assisted Living, and Memory Care services and amenities catered to the individual.
Sumter Senior Living is conveniently located in The Villages community® with full access to The Villages amenities. With dedicated life enrichment associates and wellness experts, senior living has never been a better choice for nurturing the mind, body, and soul.
"We are in this together at Sumter Senior Living," McClelland said. "We know this holiday season is like no other and we are dedicated to having every resident truly feel at home here with us. We are family."
Being alone during the holidays is hard enough, and with the pandemic it has become even more important to connect with others. One in four adults aged 65 or older have reported experiences with anxiety or depression since the onset of the pandemic, according to an October 2020 survey conducted by the Kaiser Family Foundation.
At Sumter Senior Living residents are staying connected with loved ones through virtual video chats, phone calls, letters, window visits or socially distanced visits. Now is the time to stay mindful, stay connected, and engage in meaningful, creative activities and events. Resident no longer have to worry about preparing their next meal or keeping up on any maintenance work. Sumter Senior Living provides a place to focus on yourself, feeling better and living life to the fullest.
The National Council on Aging reports that seniors who participate in senior center programs can learn to handle and hamper the onset of chronic disease and improve overall well-being. Promoting a healthy, whole-body wellness approach to care is a key component of each day at Sumter Senior Living.
With the holiday season upon us, Sumter Senior Living community knows that home is more important than ever. Whether it is chair Zumba with Patti, swimming in our heated pool, or golfing, there are so many ways to recharge and relax with friends.
A Safe Place to Call Home
Sumter Senior Living is much more than senior living – it's a way of life. Here you'll find a distinctive living experience filled with friendships and life enrichment opportunities. Step outside and discover peaceful outdoor spaces perfect for gardening, enjoying the outdoors, bird watching, and spending time with friends.
In the face of uncertainty and understandable concern regarding COVID-19, Sumter Senior Living is not only present and prepared, but continually finding new ways to truly be home for all our unique residents who continue to engage and socialize. Our precautionary measures and guidelines strictly follow Centers for Disease Control and Prevention (CDC), local and state health department regulations and recommendations. We also partnered with Dr. Kevin W. O'Neil, MD, FACP, CMD, as a Medical Advisor to provide experienced, expert support and guidance.
We reinforce infection control processes and emergency preparedness plans already in effect with enhanced cleaning and sanitation protocols. We have also partnered with Clinical Reference Laboratory to offer rapid result, saliva-based COVID-19 testing for future residents.
We maintain regular communication with residents, families, and associates as well as consistently monitor the health of all in our community, both residents and associates.
See Yourself Here
Sumter Senior Living provides a continuum of care that is top notch.
Our Independent Living lifestyle provides the day-to-day freedom to come and go and the convenience of any number of activities to choose from. It is the perfect fit for an active, healthy lifestyle where residents enjoy all-inclusive, restaurant-quality dining and weekly social gatherings. Sumter Senior Living is dedicated to empowering residents to explore personal interests and connect you with the greater community through transportation and full access to The Villages® amenities. Our Grande Clubhouse includes a full bar, heated pool, and fitness center. There is also golf cart accessibility with charging stations convenience.
Our Assisted Living lifestyle is truly catered to the individual, providing support and care that stands out from any other. Enjoy the comforts of home to call your very own and personalized assistance with daily routines that promote a healthy, social, and active lifestyle. Our planned activities and events provide fulfilling experiences each day with 24-7 help at your fingertips.
Our Memory Care specializes in providing compassionate care to individuals with dementia, Alzheimer's disease, and other neurodegenerative conditions. The challenges presented by memory loss can be difficult to navigate, but our specialized Village Program® is here to help every step of the way. The Village Program® offers personalized programming that engages residents in activities to best reflect their former schedules, lifestyles, and interests while providing a safe place where their unique interests are nurtured. We also provide It's Never 2 Late (iN2L) technology to engage and stimulate the intellect and provide connection through innovative technology.
Senior living encompasses many lifestyles and living options. From Independent Living to Memory Care, Sumter Senior Living is designed to enhance the lives and well-being of all. And our knowledgeable and experienced associates are here to assist and provide the resources for ensuring you or your loved ones find what best works for your family.
Sumter Senior Living is managed by Grace Management, Inc. (GMI), an industry leader in providing the best senior living experience. The company has been able to elevate industry standards by delivering exceptional living experiences while providing the resources and information seniors and their loved ones need to make important life decisions. Grace Management, Inc. is a subsidiary of CPF Living Communities and is ranked in ASHA's 50 largest seniors housing owners. For more information, please visit www.gracemanagement.com.
For more information about Sumter Senior Living or to schedule a personalized visit please call us at: 352-674-3600. or visit our website:
www.SumterSeniorLiving.com.
Sumter Senior Living
1490 Killingsworth Way, The Villages, Florida 32162
352.674-3600
www.sumterseniorliving.com
Assisted Living License Number: 12227
We look forward to hearing from you!