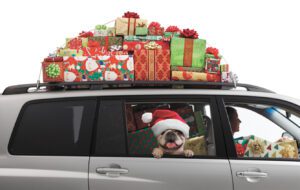 During the holidays, we're looking forward to spending time with family, traveling, and attending events; our lives tend to be a bit more hectic. With all of the extra festivities and travel, injuries often coincide. This is especially true when it comes to travel.
Tip #1
When traveling for long distances, whether by car, plane, or other means, we can become somewhat cramped up in small spaces. It's wise to take breaks, get up and stretch or move and to get the muscles moving and the blood circulating to prevent injuries. Moving throughout the trip can help limit stress on the spine, shoulders, neck, back, and hips.
Tip #2
Slips and falls are more common this time of year. If you're up north visiting loved ones, be careful and use extra caution if it's snowing or if there is ice on the ground, steps, and pavement. When you enter a building or home, make sure you get the majority of wet snow off of your shoes to avoid slipping as well.
Tip #3
It's also essential to think about the heavy luggage or large gifts that you'll need to lift in and out of the car or place in the overhead bin. Is it too heavy? Do you know how to lift it correctly? Lifting from the waist is not a good idea as it can put extreme stress on your back. Bending your legs is the proper way to lift heavier objects. Try to pack as lightly as possible and ask for help if you've got several bags.
Tip #4
For exercise and sports enthusiasts, the winter months can be refreshing, but with the cooler temperatures, muscles can cramp and tear more easily. It's best to exercise outside only when your body is warmed up correctly, and it's imperative to wear the proper attire to keep warm. Exercising indoors is best as it can help to alleviate some of these injuries.
Tip #5
Keeping your immune system in peak performance is also critical during this time of year. All of the extra festivities often invite crowds of strangers and friends that might be sneezing or suffering from colds or the flu. Staying healthy can't be stressed enough during your travels. No one wants to trek long distances when they are under the weather, and none of us want to put our families at risk of catching what we might have encountered along the way. Getting adequate rest, eliminating  stress, eating healthy, taking vitamin C or other supplements can help. It's also important to get vaccinated! It's not too late to get the flu shot!
Rivers Family Medicine continues to provide their patients with the highest quality of care; they are continually looking for innovative methods of working together with their patients to ensure that they are not only aware of but also involved in the management and improvement of their patient's health.
new office location
coming soon to Brownwood!
For their patients convenience, Rivers Family Medicine is opening a second office in The Villages. This second office will open after the first of the year at 2771 Brownwood Blvd, The Villages 32163.
To schedule an appointment with Rivers Family Medicine, please call (352) 205-4302.
NOTE: All Sick Visits will only be Telehealth visit to maintain safe distances and reduce exposure.
Dr. Anthony Desmarais
352-205-4302
www.riversfamilymedicine.com
1503 Buenos Aires Boulevard, Building 110
The Villages, FL 32159