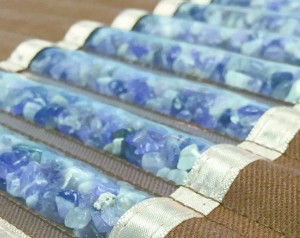 If someone told you that you could relieve that stiff back, those nagging joint pains and reduce stress while you were at it and all you had to do was lay down for a while—what would you say? Odds are it's either, "Sign me up!" or "I don't believe it."
BioMat by Richway is hard at work relieving pain and stress for those in the first category and making believers out of hundreds in the second. What is BioMat? It is a 17-layer mat of carefully selected materials that combine three complementary technologies in one to accomplish exactly what it promises. Simply lie down on it, choose from a variety of settings on a touch pad controller and relax. Let the principles of far infrared spectrum therapy, negative ion infusion and the superconducting properties of amethyst combine their effects in a non-invasive, whole body treatment that bridges the gap between traditional and nontraditional medicine.
Far infrared spectrum treatment harnesses the effectiveness of light wavelengths concentrated at an end of the spectrum safe from the effects of UV/UVB radiation. The scientific community has conducted several studies on far infrared—NASA did research decades ago—that highlight its abilities to stimulate healthy cell growth and promote faster tissue healing.
Negative ions promote optimum cellular health by opening cellular channels in the cells to increase the flow of nutrients in and waste products out. By essentially "flooding" the body with negative ions, BioMat literally "purifies" the body at the cellular level.
The topmost layer of the BioMat contains amethyst and tourmaline crystals whose physical properties help them concentrate the far infrared rays and ions in a powerful, consistent stream that can penetrate the body—painlessly, of course—up to a depth of 7 inches.
No matter whether your particular needs may be stress reduction, detoxifying or other health issues, BioMat has much to offer. In fact, the end results are often felt after only one treatment and can be nothing less than amazing:
• Reduces stress and fatigue
• Relieves anxiety and promotes relaxation
• Improves sleep patterns
• Reduces inflammation
• Eases joint pain and stiffness
• Provides warm, soothing pain relief
• Eliminates toxins in the body
• Increases blood circulation
• Alleviates migraines and tension headaches
• Reduces allergy symptoms
• Improves immune system function
• Improves cardiovascular health
• Burns calories and controls weight
• Improves muscle tone and skin quality
AIRS Global, Inc. in Lady Lake, FL is a local provider pursuing a nontraditional, holistic approach to optimum health and life. Those who may be interested in the healing powers of the BioMat are encouraged to contact AIRS for an initial assessment and treatment session online at airsglobalinc.com or by calling 352-462-0860.