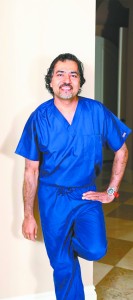 It's that time of year again — mid-November — when the American Cancer Society celebrates The Great American Smokeout. Always on the third Thursday of November, this year the date is Nov. 20. It's a day the media will make some mention of and smokers and their families may take some notice, especially if someone in the family has been trying to quit. And physicians and other cardiologists like myself will make a special point to tell their patients who still smoke how damaging the habit is to their bodies.
The thing is we've all heard this before. I am sure smokers know the habit is not healthy. We doctors, more than any other, are certainly aware of the bad news. I sometimes wonder if we've heard all the "bad news" so often it gets tuned out. Therefore, maybe it is time for some good news instead.
The Great American Smokeout is one day. Some may wonder, "What good is quitting for a single day?" The Cancer Society has some answers — and that's the good news.
• Quit and in just twenty minutes, your heart rate and blood pressure begin to decrease.
• Quit for twelve hours and the carbon monoxide — a poison that displaces oxygen — in your blood goes back to normal.
• Quit for two to three months and your circulation and lung function will improve.
• Quit for one to nine months and that annoying cough and shortness of breath decreases; the cilia in your lungs get working again to keep your lungs clean and safer from infection.
• Quit for one year and your coronary heart disease risk — compared to a smoker's — is sliced in half.
• In two to five years, your stroke risk is the same as a non-smoker's risk. In five years, risk of mouth, throat, esophagus and bladder cancer is cut in half. Cervical cancer risk is identical to that of a non-smoker's.
• In 10 years, dying from lung cancer is 50 percent less likely than for someone who still smokes. The risk of pancreatic cancer and cancer of the larynx decreases.
• In 15 years, the risk of coronary heart disease becomes the same as for a non-smoker.
And perhaps the best news of all: It all began with a single day. Make this the year you decide to quit. Start planning now and discuss how to quit with your physician. There are all sorts of plans, medications and therapies to help you. Then look ahead to a time when you are smoke-free. When it's all good news, the bad news simply won't apply to you anymore.
www.puticeonit.com
For more information call 352.854.0681
Ocala 4730 SW 49th Rd.
Ocala 3515 SE 17th St #100
Summerfield 10435 SE 170th Place
Tavares 2754 Dora Ave.
The Villages 1950 Laurel Manor Dr., Bldg 240
The Villages 1050 Old Camp Road
Williston 412 W. Noble Ave.