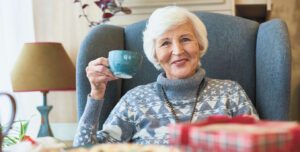 The holidays are one of the most joyous times of the year, but they can also be one of the most stressful. We look forward to spending time with our families, celebrating and reflecting on the end of another year, but all of the extra activity and social interactions can lead to an increase in stress. Stress is a natural consequence of having too much to do but finding ways to manage holiday stress will bring greater enjoyment of the season to you and your loved ones.
If your stress or anxiety are lingering, you should take steps to get treatment. Stress can show itself both physically and mentally. If you feel persistently sad, anxious, or on edge; you start having unexplained physical problems; you're unable to sleep; feel irritable all the time; or just feel overwhelmed, it may be time to seek help.
If you are simply undergoing typical holiday stress or depression, here are a few tips to help you relax and enjoy the next few week of FA-LA-LA:
Don't Over Commit—Sure there are numerous places to go and be during the season, but you don't have to do everything. Saying yes to every request can lead to burnout. Sometimes, you might benefit more from staying home, taking a walk, chatting with neighbors or just relaxing at with a good book. It's important to stay involved to not feel lonely, but sometimes, during the holidays our schedules are packed with too many plans.
Try to Pre-Plan—Making a plan to do certain activities will help you stay on track and not feel too overwhelmed. If you promised you'd bake gingerbread cookies, help the church string lights, buy and deliver gifts for children in need or volunteer time, those are all important and worthy activities, but adding them to your calendar and sticking to a certain amount of time for each is important so that you don't overextend yourself.
Stick to Healthier Foods—It can be really tempting to overindulge on sweets, eggnog, fried appetizers, and rich foods during the holidays. It's okay to reward yourself once in a while, but don't go overboard. These food and drinks can leave you feeling guilty, physically ill and depressed. Sugar, sodium, trans fats and processed foods can actually make your brain and body inflamed and angry and cause chronic illness or intensify existing conditions.
What we put into our bodies is very important. Make sure to stick with vegetables, lean proteins and healthy grains for the majority of your diet, and drink plenty of water.
Take Time for You—Whether you need to take a long walk, read a book, watch your favorite Christmas or comedy movie, do what makes you happy. You deserve to feel joy too.
PACIFICA SENIOR LIVING OCALA
At Pacifica Senior Living Ocala, you will find an award-winning community that is designed to give seniors in both Independent Living and Assisted Living a retirement lifestyle that makes the most of these golden years. In our community, retirement isn't the end, but the next step in a grand adventure that is still filled with excitement and fun, while recognizing the need our residents have to relax and be cared for. We want to be more than the place that our residents live, we want to be the place they call home, and we work every day to make sure that happens.
Pacifica Senior Living understands that along with providing the best patient care, providing the entire family the support and education they need is essential for enhancing understanding and contentment for families.
Unlike most facilities, their home-like accommodations are custom built to help ease what can be an overwhelming time in life. This is precisely what sets them apart and makes them stand out.
If you would like to learn more about life at Pacifica Senior Living Ocala, please give us a call today, or schedule your own private, personalized tour and see what makes us great for yourself! We look forward to meeting our new neighbor.
Memory Care Coming Soon!
Pacifica Senior Living
(352) 414-2507
www.PacificaOcala.com