By Pastor Johnny Scott – Generations Christian Church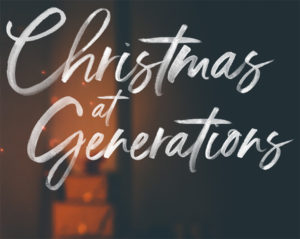 Ed had the biggest smile in the room and while reflecting on Ed's bright countenance, I asked my associate pastor if he knew that Ed was the "head usher." As I made this inquiry, I chuckled, as I didn't even know we had such a position. However, from that point on, Ed was the official head usher of our church, self-proclaimed or not. He earned it, too! Ed would greet the most sullen person so warmly they couldn't help but cheer up when they entered the church. The worship team could hear Ed greeting people in the lobby even while the team was on stage leading worship. Between stances of songs, we would hear Ed exclaim, "Welcome today!" with so much enthusiasm it seemed like he was actually leading the congregation from the back of the worship center. He might have been a self-proclaimed head usher and song leader, but I have to admit, I found myself smiling many times as I stood on stage and watched Ed's service take place. He was always the last person to leave every service, staying to pick up all of the communion cups and service bulletins off the floor before giving me one last hug or smile. What a joy it was to see Ed in the perfect place God had created just for him to serve, using all of his God-given abilities.
Looming under all of that sincerity in Ed's service was an unknown forthcoming pain. I believe this article is extremely important, because if I had asked Ed before the hardship began, he wouldn't have seemed unprepared or in the dark about the situation that would ultimately be upon him and his family. He knew it was coming. Nonetheless, there is always something that can catch us off guard, no matter how much planning and preparing we put into place.
It became evident that something was changing in Ed's life when that huge, contagious smile of his turned to deep sadness. After a few weeks of sporadic appearances and rushed greetings at the end of a busy Sunday, everyone noticed that something serious was happening with our friend. Following service one weekend, I met Ed by the coffee station and the truth of what he had been dealing with broke in a flood of helpless emotion. The tears welled up in his eyes as he shared with me that his once strong and self-sufficient father had recently taken a fall, and that fall had turned into a steady decline of health. Ed and his family had moved his father into their home and they were tending to the growing needs of this man they loved so dearly.
A few of us from the church met at Ed's home to offer support. There was some embarrassment on his part, because they were falling behind in many ordinary, daily tasks. Ed's wife was so tired and admittedly couldn't keep up with all of the new demands in her schedule, let alone the tasks of caring for the kids on a regular basis. The kids had been pitching in as much as possible, but even they were looking at us with great concern.
I drove out to the family farm with Ed, and we walked the fields where his father had farmed for 30 years. Just a few weeks before the fall, his dad was chopping wood, cooking for himself, and getting ready for the next season's harvest. What an amazing generation his father represented. He was a full-time teacher and coach, while farming in the orange business. Ed had been driving his dad's truck since he had taken ill. The thought of selling the massive dually truck was a bridge that Ed wasn't ready to cross alone. It's not like Ed needed a gas-guz-
zling, quad-cab pickup truck for his inner city sales job. In fact, it wasn't about the truck as much as it was about the realization that he was in for a long haul in taking care of his father.
Ed wasn't prepared for the marathon effort that caregiving was going to take on him and the rest of the family. Everyone's life changed overnight and the fatigue set in quickly. Neither Ed nor his family would have chosen another way, but that didn't change the toll and hardship it placed on all them in caring full time for a loved one. The challenges were emotional, physical, and mental. Ed needed support and guidance on the many issues he wasn't prepared to undertake. Thankfully, Ed wasn't alone and many have gone before him on this journey. Over 90% of caregiving is done by a family member according to a 2017 national survey. It is estimated that 65 million Americans are involved in what would be considered daily, full-time work in providing care to a loved one. That means that someone in your neighborhood is struggling right now with loneliness and depression. Just imagine if all your friendships and regular activities came to a hault overnight.
What strikes me most about this circumstance is that Ed and I have a close relationship and I didn't recognize the hardship he and his family were facing. I noticed him driving the truck, but he joked about helping his dad with something and indicated that it was only a temporary situation. My wife, Jen, and I would pick up his kids and take them to choir practice, however; as close as we were, we didn't see the impact on their family until the situation became overwhelming. If you are not in this situation, you may live next door to someone who is experiencing this type of hardship or perhaps a co-worker is struggling and hiding an avalanche of need and emotion. What would you do if suddenly you were the caregiver to another person who needed your assistance with everything? Thankfully, there is help and resources are available. If it is not you, you may be the lifeline to another person. Is there someone who has just dropped out of your life unexpectedly? Has a friend recently taken on helping an aging parent? Is there a neighbor who could use a night out or a coffee break?
As we look towards National Family Caregivers Awarenss Month take some time to think about those around you who provide care to others. How are they doing?
What could you do to help someone in this season?
Here are some excellent resources:
1. Seek support from other caregivers. You are not alone!
2. Take care of your own health so that you can be strong enough to take care of your loved one.
3. Accept offers of help and suggest specific things people can do to help you.
4. Learn how to communicate effectively with doctors.
5. Caregiving is hard work so take respite breaks often.
6. Watch out for signs of depression and don't delay getting professional help when you need it.
7. Be open to new technologies that can help you care for your loved one.
8. Organize medical information so it's up to date and easy to find.
9. Make sure legal documents are in order.
10. Give yourself credit for doing the best you can in one of the toughest jobs there is!
Resources:
Here are some helpful resources for you and loved ones in a caregiving role:
http://caregiveraction.org/resources/blueprint
You are not alone. One very helpful resource is to hear the stories of others giving care.

Get a tool kit for you or a loved one involved in ongoing mental health
caregiving:
https://www.webcaster4.com/Webcast/Page/9/23367
https://caringpeopleinc.com/blog/national-family-caregiver-month/
I can't help but think of the words that Paul wrote to Timothy about providing care. Paul urged Timothy to excel in this area. 1 Timothy 5:8 "Anyone who does not provide for their relatives, and especially for their own household, has denied the faith . . ." We all have our limits, we all need breaks, and we all need support. Don't wait too long before letting someone know what is going on. There is help in your neighborhood. Take some time today and consider all of your options because you are needed and loved!
generationscc.com | 727-375-8801
Trinity
1540 Little Rd.
Trinity, FL 34655
Spring Hill
34 Seven Hills Dr.
Spring Hill, FL 34609
Service Times:
Sat @ 6PM | Sun @ 8:30, 9:45 & 11:15AM