A New Generation of Super Nutraceuticals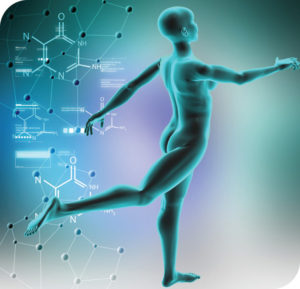 For decades, the medical community has been focusing on a natural compound in our bodies called "hyaluronic acid", or HA, and collagen, both of which are chief components of healthy connective tissue throughout the body.
HA and collagen are especially important to knees, elbows, wrist, and the spine…where they are present and responsible for joint function, lubrication, comfort, and mobility.
They are also a major component of skin…essential for hydration, tissue repair, and its youthful appearance. The problem is, as we age, we begin to lose HA and collagen.
Researchers, including those at Harvard University, had been doing everything possible to find a way that people could benefit, but the natural state of HA was too complex for the body to use. It was expensive and it had to be injected.
That's where we stepped in.
We discovered a unique natural source of HA that naturally coexists with collagen, as it does in our bodies.
We tested and developed it into a nutrient that could actually be absorbed into the body and deep into tissues. It is a complete breakthrough in the nutraceutical community.
Award-winning…multi-patented.
After numerous clinical trials, Super Nutraceutical was shown to improve joint health significantly, plus it also reduced wrinkles from inside-out.
Clinical Trials show
Super Nutraceutical Improves joints
• Improves joint mobility and lubrication
• Reduces discomfort
• Promotes health cartilage and connective tissue
It works…and it's documented
In an 8 – week human clinical trial, 90% of subjects with chronic joint discomfort experienced a 40% improvement in physical activity and with continued use, many experienced significant mobility.
A 10-week trial enrolling subjects at an advanced stage of joint problems showed that more than 70% experienced a significant reduction of discomfort, improving their daily activities.
Joint discomfort can come with aging, strenuous work, and athletic activity, but what you're really experiencing in the progressive degeneration of connective tissue, where both collagen and hyaluronic acid are essential.
Taken orally, in a patented, highly absorbable form, Super Nutraceutical allows you to replenish these important substances and is clinically shown to work!
Its Bio-Optimized manufacturing process produces an ideal molecular weight that your body can effectively absorb, and it mirrors the joint's natural composition, so the body readily accepts it.
It gets even better…you'll look
younger, longer
• Reduces deep lines and wrinkles
• Decrease dryness
• Increase skin's collagen content
• Improves skin's microcirculation, hydration,
skin tone, and firmness
It's hard to argue with science…it's even harder to argue with results Clinically tested…takes years off  your appearance
A human bioavailability study demonstrated that within 28 days, daily intake of Super Nutraceutical let to 60-fold increase of hyaluronic acid in the body, reducing wrinkles from the inside-out, without cosmetic injections.
In a 12-week human trial, dryness nearly disappeared without the use of topical moisturizers. Plus, subjects experienced a significant increase in the skin's collagen content, reduction in lines and wrinkles, and improvement in skin's microcirculation, hydration, and skin tone. Subjects also noticed a dramatic difference in their hair, nails, gums and even eyes.
"Higher levels of HA and collagen equal younger-looking skin. This nutraceutical has been a Hollywood secret in helping some of my most visible personalities look their best." Jon M. Grazer M.D., M.P.H., F.A.C.S., Board Certified Plastic Surgeon.
Active Joints Amazing Skin
The nutraceutical breakthrough that's completely changing the way we age!
Super Nutraceutical is the award-winning super nutraceutical, clinically shown to promote healthy aging, active joints, and younger-looking skin.
This state-of-the-art formula combines the multi-patented power of Super Nutraceutical with the added benefits of 13 potent, antioxidant-rich superfruits, and resveratrol, widely studied for its roles in longevity and cardiovascular health, infused into a unique liquid delivery system that provides unsurpassed absorption and fast results.
Feel what it's like to live life without joint discomfort.
See what happens to your skin.
Try Super Nutraceutical for yourself.
"I am a runner, and my husband was an avid runner until his joints would no longer allow him to keep up such strenuous physical activity. I am so excited to report that my husband, after about a month on the product, is now back to running. My own running time has improved, my joints feel amazing and my skin looks great!" Stacy H.Rockport, TX
"Since I started taking this Super Nutraceutical I can see a noticeable improvement in the wrinkles on my face!" Donna L.- Mosinee, WI
"I was attracted to the product for the vanity reasons for wrinkles, and I was excited when my dry and flaky skin became soft and supple in just a few weeks. But I am also happy to report that the joint discomfort is gone in my hips." Kathy P.- Tampa, FL
"Since I have been taking this nutraceutical, I have no joint discomfort now and my muscles respond better and quicker with activities and exercise. I wish everyone could feel as good as I do now." Billy H.- Westville, OK
"After I used this product for just three weeks, I found that I could climb stairs without discomfort in my knees for the first time in years!" Martyne B.- Albuquerque, NM
"I have seen a change in my knee discomfort and I also noticed this morning that my frown lines have almost gone away! No need for any Botox now!" Danielle L.- Jupiter, FL
For a free health coaching assessment and recommendations on what would work best for your unique body type, please contact
Dr. Grazyna Pajunen or Tony Pajunen at
561-350-8269
Health and Wellness Enterprises
http://EffectiveCollagen.com/discomfort