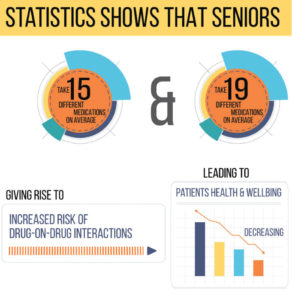 Reliance Medical Centers continues to re-invent healthcare delivery for older adults with the addition of the Wellbeing Adviser Program. Adding a Wellbeing Adviser (a Licensed Clinical Social Worker) to a Primary Care clinic is a vital move in improving patient care, but when you understand why, it makes perfect sense.
In the beginning, Reliance Medical Centers understood that traditional medical care is insufficient for ensuring better health outcomes. That philosophy has driven the organization to continually re-invent primary care for seniors. The basis of the philosophy is value-based vs. volume-based medicine. But value-based is only the foundation of reimagining primary care. The drive for continuous improvement has been the inspiration for the development of multiple innovative and non-traditional primary care programs designed to improve health outcomes. One of those initiatives is embedding Wellbeing Advisers (or behavioral counselors) as a core component of primary care.
Leading this new program is Aaron Landry, a Licensed Clinical Social Worker. He has joined the team as the Manager of the Wellbeing and Medical Concierges programs. Aaron brings a great deal of experience to the organization.
Social-environmental and behavioral factors have a significant impact on a person's health and wellbeing, and this is particularly true for older adults yet often goes undetected. As people get older, life changes significantly. There are noticeable changes such as reduced mobility, hearing impairment, reduced eyesight, etc. and then there are the less visible changes too. For example, the onset of grief and loneliness due to close family members or friends passing, and perhaps spending less social time with family and friends. Also, the possibility of reduced income as a result of retirement. These are just a few examples.
A large number of seniors experience ill health directly as a result of the impact of certain social-environmental factors. Social-environmental factors play a vital role in clinical outcomes of the patient. The problem is, most primary care physicians treat only medical symptoms, and largely ignore the mental and environmental determinants of health. Most patients who are feeling stress, anxious, or depressed will seek help from their PCP. However, their PCP is mostly only in a position to offer medication and not therapy.
Medication usage by older adults is alarming. Statistics show that people between 65-69 are, on average, taking more than 15 different medications and those between 80-84, take 18 prescriptions. This consumption gives rise to an increased risk of drug-on-drug interactions, polypharmacy, further decreasing a patient's health and wellbeing. At Reliance Medical Centers, this is where the Wellbeing Adviser steps in.
At Reliance Medical Centers, all patients have direct access to the Wellbeing Adviser, who meets with patients to provide a complete profile of a patient's behavior and social-environmental surroundings. Where necessary, they also offer ongoing support to help patients deal with any circumstances that may be impacting on their overall health and wellbeing.
Nationwide, and in our geography, there is a shortage of access to behavioral health, so there are many advantages to patients having direct access to a Wellbeing Adviser at their primary care practice. For example, when the social worker is part of the medical team, there is direct communication between the medical care team and your therapist about addressing all the aspects of a patient's health. Booking a social worker or therapist can take upward of six months to get an appointment. The fact that all patients at Reliance can meet with the Wellbeing Adviser means that the Primary Healthcare Physician can build a complete profile of each patient and identify a broader range of factors that may have an impact on their health. If there are pressing issues that need addressing, quick access is imperative; things are more likely to get worse with delayed access. Also, Reliance's Wellbeing Adviser has direct access to Reliance's Patient Advocate, a member of the Health Support Team, whose responsibility it is to provide information and connections to any community resources that can be of benefit to a patient.
Adequate and coordinated behavioral treatment of seniors has a high impact on their outcomes and effective allocation of resources. Some of the effects Reliance identified and were the genesis for the Wellbeing Adviser Program, were.
Patients being medicated instead of treated
Industry-wide overutilization of pharmacotherapy vs. psychotherapy
Misdiagnosing. i.e. not having a coordinated complete picture/context of patient.
Detrimental changes in behavior due to onset or ongoing chronic conditions or acute cases.
Lack of identification of Social Determinants of Health (SDoH), thus no treatment put in place.
High index of SDoH best treated through Wellbeing Advisering Program, such as isolation, anxiety, depression, insomnia.
High overutilization of ER for conditions related to SDoH
The answer was simple and relatively easy to implement. After analyzing all these factors, the most glaring truth was that "Primary Care for Seniors was Broken." Reliance realized embedding Wellbeing Advisers must be standard in primary care for seniors. A primary care practice focusing on Seniors, those 65+, must have LCSW Wellbeing Adviser as part of their basic service.
Now all Reliance centers will have a Wellbeing Adviser alongside Medical Doctors, Nurses, and Medical Assistants as standard.
Reliance Medical Centers
Lakeland
3655 Innovation Dr.
Monday – Friday: 8am – 5pm
Saturday: 9am – 1pm
Lab: 7am – 4pm
Winter Haven
111 Avenue A SE
Monday – Friday: 8am – 5pm
Lab: 7am – 4pm