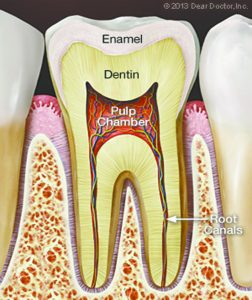 Root canals are often the one dental procedure that cannot defy its bad reputation, but you can rest assured that having a root canal procedure is just as simple a process as having a filling placed.   The common signs of needing a root canal are pain when eating or drinking something hot.  The tooth is made up of enamel, then a layer of dentin (softer/spongier bone), then the dental pulp, which is connective tissue and nerve bundles that elongate into the roots of the tooth. A root canal is usually recommended when you have an infection in the pulp of the tooth.
So, how did the infection take place?  Well, normally it's caused by decay (cavity) in the tooth or microleakage around a filling that allowed bacteria to enter through the dentin and into the pulp of the tooth.  Once the infection is in the nerves or root system, no manner of antibiotics will be able to reach the infection, so having a root canal is imperative.  If left untreated, a painful abscess will form at the base of the roots, deep in the bone and can cause further infection to contaminate the mandibular (bottom) or maxillary (upper) jaw bones.  It will also cause the tooth to decay more rapidly and may cause severe swelling of the face.
The Procedure
Your dentist will drill a hole through the center of the tooth and remove any surrounding decay.  Tiny files that have threads, much like teeny, flexible screws are placed into the root(s) of the tooth.  These small files can bend and flex with the natural contour of your roots, so they are able to adhere to the damaged nerves and extract the tissue that needs to be removed.  This is not painful, as you will be totally numb, and once the procedure is over, you will no longer have nerves in the tooth to cause pain.
If the infected tooth had been ignored for an extended period of time, the root canal would also remove the abscess that may have formed.  If this is the case, then antibiotics will be prescribed to make certain that no other recurring infections take place in and around the jaw bone.
Before filling in the roots with tiny rubber like nerve replacements, the roots will be totally cleansed and irrigated.  After your root canal procedure, a temporary filling will be left in place.  This will allow time for the tooth to completely calm down before a permanent filling is put in place.
Many people need to have a crown (cap) placed on the tooth because decay was rampant and left too little tooth structure to maintain the ability to prevent breakage from wear and tear.
The only alternative to a root canal procedure is a tooth extraction.  If you decide to get your tooth extracted, it's a wise choice to have an implant (titanium post and porcelain crown) placed.  If you leave an open space in between teeth, the teeth will shift on their own, trying to fill in the interproximal space and also the occluding teeth (bite) will either drop down or lift up out of the jaw bone, to try and properly occlude with their natural bite.  If this happens, then you potentially could lose multiple teeth.  Staying on top of your dental health through cleanings, x-rays, and dental examinations are critical to avoid in-depth procedures and to maintain a healthy mouth that's free of decay, bacteria, and oral cancer.
Belleview Dental Center
All of the providers at Belleview Dental Center are highly trained in treating root canals.  Having qualified, skilled, on-site dentists is an essential consideration when choosing the right dental group for your needs and convenience. When you receive dental care from the providers at Belleview Dental Center in Belleview, FL, you have the confidence of knowing you are receiving care from highly skilled dentists at a family practice that was established over 35 years ago in 1982.
Belleview Dental Center is family-owned and dedicated to delivering the best in general, restorative, implant, and cosmetic dental care for your entire family as well as same day emergency services and extended office hours.  Their mission is to ensure your dental experience is positive and stress free.  You will enjoy compassionate, comfortable dental care designed to provide a lifetime of optimal oral health.  Together with our periodontist, all of the doctors at Belleview Dental Center have extensive experience with placing and restoring dental implants.  Belleview Dental Center has a long heritage of dentists with a great deal of trusted experience.  Your smile will be in good hands with Dr. Henry Sweeny Sr., Dr. Henry "Bo" Sweeny Jr., Dr. Samuel Sweeny and their dedicated staff.
352.245.1188
belleviewdentalcenter.com
10600 SE Hwy 441, Belleview, FL 34420
About
Dr. Henry A. Sweeny Jr.
Dr. Henry A. Sweeny Jr. joined Belleview Dental Center  in July of 2003 after graduating from Dental School. He is fondly known to his patients as Dr. Bo. He attended the University of Florida and received a Bachelor of Science in Nutritional Sciences, a Masters of Science in Food Science and Human Nutrition and continued at the University of Florida to complete his Doctor of Dental Medicine. Throughout his extensive career, Dr. Sweeny has attended continuing education courses and has focused on comprehensive training in Implant Placement and Implant Restoration. He also has completed advanced education in Cosmetic Dentistry. Dr. Sweeny is a member of the American Dental Association, Florida Dental Association, and the International Team for Implantology. Dr. Sweeny's practice also includes General Dental Procedures, Root Canals, Oral Surgery, Extractions, and Dentistry on Children. He has a particular passion for Implants and Oral Surgery. Dr. Sweeny is an avid fisherman and in his free time he also enjoys golf, hunting, exercising, volunteering in the community, and can frequently be seen attending University of  Florida Gator football games. He works alongside his Father, Henry A Sweeny Sr. DMD and his Brother Samuel J Sweeny DMD at this treasured local Dental Practice.