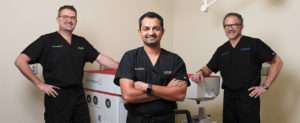 A cataract is a clouding of the eye's natural lens, which can cause foggy or blurred vision. While cataracts can occur at any age, they most commonly affect people ages 55 and older. Because The Villages is home to scores of retirees, there are ads, commercials and billboards everywhere about cataract surgery. This article aims to provide more detailed information about this common condition so you have more information about what choices might be right for you.
Left untreated, a cataract will continue to grow, making vision problems worse over time and eventually resulting in partial or total blindness. While that may sound fright­ening, cataract surgery is one of the safest and most successful surgical techniques in history, restoring clear vision to more than
3 million Americans every year. Removal of the clouded lens is painless and takes only about 10 minutes, including the placement of a new lens, called an IOL. Noticeable results are often immediate, with even greater improvement continuing anywhere from a few days to a couple of weeks. Many patients experience complete restoration of their vision, and a subset achieve better vision than they ever had before. For most people, the right IOL allows less depen­dence on glasses, and some patients stop needing them altogether.
Why Choose Lake Eye for Cataract Surgery?
Our team of locally-based Board-certified Ophthalmologists has unrivaled experience and training in cataract removal and IOL placement. Our team has performed tens of thousands of successful cataract surgeries and mastered state-of-the-art technologies and techniques many other practices aren't qualified to offer, to promote your utmost immediate and long-term satisfaction.
For example, our surgical team was the first in the region qualified to perform the revolu­tionary Femto Laser procedure, which gently removes the clouded lens. "It is the quickest, safest and most effective cataract system ever created," says Dr. Scott Wehrly, who was the first surgeon in Central Florida to perform it. "Lake Eye has been a local leader in advanced technology for 40 years, so when we learned about the Femto Laser,  I knew we needed to train in its use and provide it to patients. Its safety and accuracy are incredible."
Once the lens is removed, the patient receives an IOL, and accurate placement is a must for optimal vision restoration. "We are among the first practices in the region to offer the ORA system with VerifEye+ technology," says Dr. Vinay Gutti. "It provides real-time information throughout the surgery so the ideal IOL can be determined and positioned for superior results."
For ultimate vision restoration, the correct high-quality IOL should be selected based on the patient's individual eye health, vision correction goals, lifestyle and other factors.
"One size does not fit all," says Dr. Scot Holman. "That's why we talk to patients before surgery to learn about their routine activities and ambitions. From there, we use only the best IOLs from companies we have worked with for years and in whose quality we have absolute trust."
For glaucoma patients with cataracts, the surgical team combines glaucoma and cataract surgeries using endocyclophoto­-
coagulation (ECP), iStent® and Hydrus®, to reduce intraocular pressure and preserve vision in a single event.
Lake Eye is Lake County's leader in training, experience, and mastery of the latest and most effective technologies, designed to rid patients of cataracts, improve vision and help restore quality of life.
Lake Eye Associates
352-750-2020
www.LakeEye.com