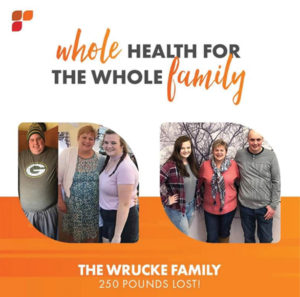 With yo-yo dieting, extreme lifestyle disruptions, unhealthy diet pills, and other means to control appetite, over the years, most people have lost a few pounds, only to regain them rather quickly once they stop using those means. Why? Because the inflammatory response causes adverse health conditions—that is what's keeping so many people from losing weight. If inflammation is left untreated, weight loss will be extremely challenging, and optimal health will most likely be even more of a life-long challenge.
Inflammation Derails Weight Loss
Illness and disorders can contribute to weight gain and also make it difficult to lose weight. If you're even just a few pounds overweight, your body is inflamed. Inflammation is the root cause of disease and disorders. These underlying conditions include thyroid dysfunction, autoimmune disease, hypertension, high cholesterol, IBS, and fibromyalgia, to name a few. Additionally, Metabolic syndrome causes inflammation and weight gain. It is a condition in which the high insulin and leptin levels are resistant, causing blood sugar to be high, high blood pressure, high cholesterol, high triglycerides, and visceral fat to become significant risk factors for diabetes, heart disease, cognitive decline, and coronary disorders. Obesity and being overweight leads to illness.
How a Low Carbohydrate Diet Reduces Inflammation
Treating the underlying condition or root cause of your weight gain is critical for your overall health and weight loss. Inflammatory diseases are typically caused by environmental toxins, the food we eat, chemical exposures, and not enough exercise. These factors can be controlled for the most part by you!
As mentioned above, metabolic syndrome is a high blood sugar issue, and eating a clean, low-carbohydrate diet designed specifically for you is a great way to get started on your journey to health and weight loss by reducing blood sugar levels. Some of the major contributors to inflammation and metabolic syndrome are foods, such as gluten (crackers, bread, cookies, pizza), and sugar (honey, syrup, donuts, candy and excessive fruit); additionally, foods like white potatoes, rice and grains can also pose potential problems for many individuals.
Keeping your diet low in carbohydrates and understanding, which are healthy and have anti-inflammatory properties is the key. For the most part, you should focus your dietary efforts on fresh produce, high-quality protein like cold-water fish, poultry, seafood, eggs and healthy low-carb snacks and treats.
A low carb diet that is clean can provide essential nutrients for overall health and alleviating inflammation. Profile by Sanford emphasizes eating plenty of vegetables, fruit, healthy fats, and lean protein, while avoiding excess salt, sugar, and simple carbs. They also provide high-quality meals and snacks for busy lifestyles. Eating this way will prevent and reduce inflammation, and alleviate pain by providing the heart, brain, and entire body with antioxidants, and the good fats that it needs to function properly. Excessive sugar, simple carbohydrates, processed foods, and chemicals are known to cause inflammation and degeneration.
Profile by Sanford
Profile® by Sanford® is changing the way people approach weight loss. We create a personalized nutrition, activity and lifestyle coaching program designed to help members lose weight and keep it off. Our dedicated team of Certified Profile Coaches educate and motivate members through every stage of your weight loss journey. Best of all, the personalized weight loss program is designed to instill internalized habits that will allow you to maintain the results for years to come.
At Profile® by Sanford®, we know there's more to losing weight than counting calories and points. That's why we created Profile Precise – a test that harnesses the power of genetics to map your DNA to a nutrition plan tailor-made to help you reach your goals.
Profile Precise is our latest innovation to help take the guesswork out of healthy lifestyle change. The test analyzes how your body metabolizes carbohydrates, providing you and your Certified Profile Coach with information to more effectively guide you on your weight loss journey.
Profile by Sanford is a top-rated weight loss program in Carrollwood, FL
Why Profile by Sanford – Tampa, FL- Carrollwood Is Right for You
We are proud to help Carrollwood residents achieve healthier lifestyles through custom-tailored weight loss plans. Created by Sanford Health physicians, Profile by Sanford – Tampa, FL- Carrollwood members receive one-on-one coaching and an effective support system that helps you achieve your health goals, reach your desired weight, and maintain your new lifestyle.
Limited Time Offer:
Get a free consultation and join the program for half off!
Get a more personal touch to achieve the results you need. Call Profile by Sanford – Tampa, FL
Profile by Sanford  – Weight Loss and Health Coaching
Carrollwood at 813-497-7212 today!
14837 N Dale Mabry Hwy.
Tampa, FL 33618
813-497-7212
www.profileplan.com/tampa-carrollwood