By Richard S. Benjamin, DPM –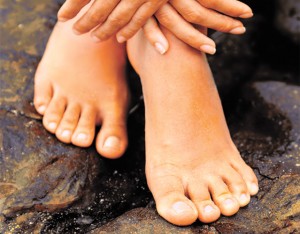 Do you feel like you are walking on raw bones or rocks? Have you tried inserts, padding, and countless new shoes only to continue to walk in pain? Do you want artificial fillers like liquid silicone which have been linked to auto immune diseases, or materials that have to be repeated every six months at a cost of thousands of dollars?
Previous attempts by other doctors have failed to safely replace the fat pad of the foot. Our materials are safe, cost effective, and the procedure is insurance covered by Medicare and other carriers.
Patients Who Are Helped
Has been performed for over four years now in the Villages. Only doctor in Florida and only one of 4 in the country (taught by Dr. Benjamin) performing the procedure:
Patients as old as 87
Patients with diabetes
Athletes, dancers, shoppers, and other active adults
About Fat Pad Augmentation
A surgical procedure where the thinning or absent fat pad under the ball of the foot or heel is restored by natural means.
A natural material is inserted through a small incision (1 inch) on the bottom of the foot just beneath the second and third toes.
The materials are called Graft Jacket (human) and BioTape (porcine), that once in place promotes your own body to grow new spongy tissue that creates a new layer of protection between the bones and skin.
The procedure is performed out-patient at a surgery center under sedation and local anesthesia (preferred) or in the office under local anesthesia.
Walking the same day in a surgical shoe.
You can return to light exercise such as walking, golf and dancing in 2-3 weeks. Tennis, pickle ball, heavy running and softball require about 4 weeks. (Individuals do differ a little based on health factors and the amount of tissue that needed to be restored.)
The material will continue to promote new cushioning tissue for about 6 months.
The materials are also used to repair ulcers, torn tendons in the ankle, shoulder, and foot. A repaired ligament or tendon is 70% stronger after these materials are used in the repair and the post operative recovery is cut in half.
Over 1 million grafts have been implanted over the past 8 years with no reported case of rejection.
On difficult cases such as diabetic ulcers, the materials are used to heal the wound and hyperbaric oxygen therapy of the foot is utilized to speed healing. Our hyperbaric chambers are only for the foot and leg. No need to enter a chamber which can result in lung, ear, eye and heart problems.
Testimonials
Mrs. MS of the Villages is 86 years old and was able to "resume playing golf at the age of 83 after quitting the game due to painful feet."
Mrs. SH of the Villages is 75 and "was able to dance pain free at her granddaughter's wedding."
Master Sargent KC of the Army Delta Force "was able to resume active duty and parachuting after having his torn ankle ligaments repaired with BioTape."
Mr. BA of the Villages was able to resume golfing after only 7 weeks after a complete rupture of his Achilles Tendon was done with BioTape, Normal recovery is 3-6 months.
To Learn More
For a consultation regarding fat pad augmentation of the foot, tendon or ankle repair, contact Dr. Benjamin at 352-259-9288.
About Dr. Benjamin
– Nationally and internationally known speaker and surgical innovator
– Former president of the national podiatry association
– Board certified in podiatric medicine and surgery, and wounds
– Nationally speaks on fat pad augmentation and hyperbaric oxygen therapy for diabetic wounds of the feet.
– Co-Founder of the Shalom Children's Fund – supplies, food, clothing, medical supplies to needy families displaced by the Chernobyl nuclear disaster in Ukraine.
– Performs charity surgery on children deformed by Chernobyl in Kiev, Ukraine
– Former nationally ranked soccer player and tennis player
– Licensed soccer coach who has won 3 national youth soccer titles
– Hobbies include: golf, tennis, boating, travel
Richard S. Benjamin, DPM
The Summit – 749 CR 466
Lady Lake, FL 32159
352-259-9288
footandanklecenter@yahoo.com